By Joel Nkanta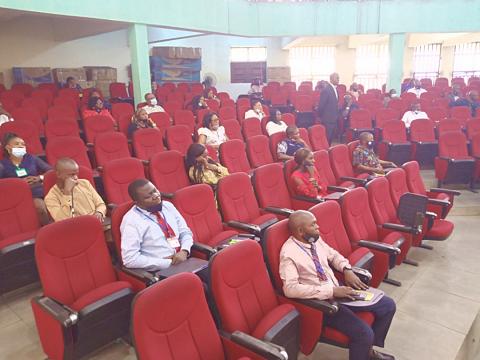 The Association of National Accountants of Nigeria (ANAN) has selected the Port Harcourt Study Centre of the National Open University of Nigeria (NOUN) as the centre for its professional exams in the South-south geopolitical zone.
The 4-day examinations, which commenced on Tuesday, 10th August, 2021, will continue till Friday, with candidates drawn from the six states of the South-south region of Nigeria.
Explaining the rationale behind the choice of the centre in a chat with NOUN News, the chairman, Rivers State Chapter of ANAN, Mr. Chidi Emmanuel Orlu, said "Before now, all exams conducted by ANAN were done at its college in Jos, Plateau State.
"Last year, the President-in-Council decided to decentralise the exams to the six geopolitical zones. Rivers State (Port Harcourt, to be precise) was chosen as the centre for the South-south zone."
He explained that "During the peak period of Covid-19 last year we could not access this place. However, with the atmosphere becoming more relaxed, the centrality of the National Open University of Nigeria (NOUN) and the facilities on ground here affords us a more conducive environment for an exam such as this. That is why we are here."
Orlu, answering the question whether his professional association would continue to use the centre for all its exams in future, explained that "The arrangement is going to be ad hoc in the meantime, though we have the license to reapply and we are hopeful that the university would not turn down our request when we reapply.
"We hope to maintain a long standing relationship with the university although ANAN is also envisioning the building of an examination centre on the long run. For now, however, we will continue to make use of a place that is ready."
The chapter chair of ANAN further explained that the body is the second Accounting body, licensed by the Federal Government of Nigeria to practise Accounting in the country.
"ANAN is the second accounting body established by law to practise Accounting in Nigeria after the Institute of Chartered Accountants of Nigeria (ICAN). ICAN and ANAN are the two Accounting bodies licensed to practise Accounting in Nigeria.
Asked on the qualification for ANAN membership, Orlu said, "For one to become a member of ANAN, he/she must be a graduate of Accounting from a duly accredited tertiary institution. Anybody who did not study Accounting but graduated in a related discipline like Banking and Finance, Marketing, Economics, and so on, must go through a one-year conversion programme, and write the professional exams before he is admitted as a member of ANAN."
Log in to post comments
713 views