Murtala Usman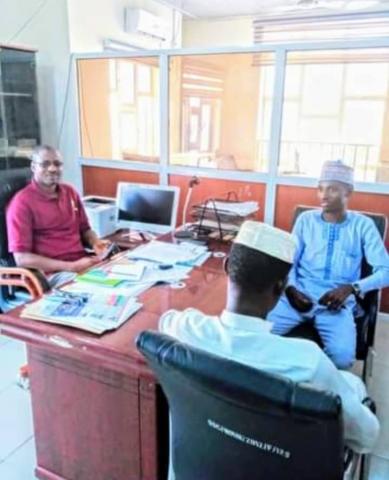 Arewa Media Writers Association, on Friday 3rd September 2021, paid a courtesy visit on the management of National Open University of Nigeria (NOUN), Gombe Study Centre.

The aims of the visit, according to the National Chairman of the association, Comrade Abbas Sani Pantami, was to collaborate with the University to educate and enlighten Northerners on the operation of the institution.

He also expressed the readiness of the association to mitigate the spread of falsehood and fake news against the University, mostly circulated by the users of social media platforms.

Comrade Pantami added that very soon the association will come out with strategies and flyers that would help in sensitisation and creation of awareness mostly to people living in the Northern part of the country to understand system and the operations of the university

He therefore solicited for prayers for the important steps the association has taken to in cleaning up the mess on social media.

in his response, the director of the centre, Dr. Adamu Bappah,  expressed appreciation for the visit and gave brief history and explanations on how NOUN operates.

Bappah lamented thst majority of people in the Northern part of the country do not understand the system and operations of the University.

He therefore expressed the centre's readiness to work hand in hand with the association to educate  and enlighten the public the benefits offer by the National Open University of Nigeria.
Log in to post comments
176 views