By Inuwa Hamza Yunusa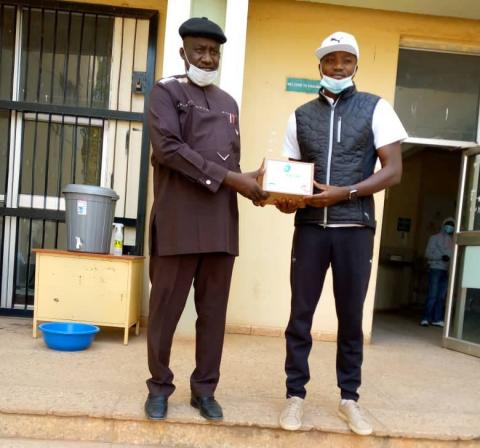 The Technical Director, Athletics Federation of Nigeria (AFN) and Managing Director, Gelplus Phermaceuticals Limited, Kaduna, Mr. Sunday Adeleye Omotayo, has donated a cartoon of hand sanitizer to the NOUN Kaduna Study Centre. 
Omotayo, a former Olympian, is also a student of the National Open University of Nigeria, Kaduna Study Centre. 
He was, at a time, among the Nigerian athletes at the Olympics event, specialising in hurdle race.
Omotayo said he deemed it necessary to contribute his quota towards curtailing the menace of the Coronavirus pandemic in the country.
The former Olympian added that a healthy nation is a wealthy nation and for that he urged the staff and students of the university to adhere to the guidelines laid by the National Centre for Disease control, NCDC, in prevention and control of the Covid-19 pandemic in the country.
Shortly after receiving the items, the director of the Centre, Dr. Aminu Umar, appreciated the effort of the former Olympian for his effort towards building a healthy society.
He further assured that a total compliance with the preventive guidelines against the spread of Covid-19 shall be the famous priority of the Centre staff.
Moreover, assurance has been given by the director of the Centre that the item would be effectively and efficiently used as it arrived at a moment that is highly needed by the Centre, when the university is in the mid of its 2020_2 Pen-on-Paper examination. 
Aminu narrated that the Kaduna State Government had since honoured the Centre with a pass mark on the protocols taken against the spread of the virus.
Log in to post comments
251 views