Murtala Usman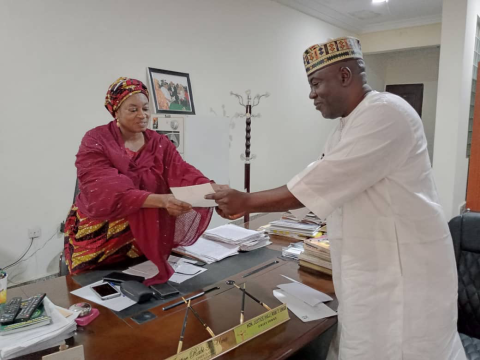 The director, Bauchi Study Centre of National Open University of Nigeria (NOUN), Dr. Buba Baba Shani, alongside other members of staff, on Thursday, 17th November, 2022, paid a courtesy visit to the office of the Chief Judge of Bauchi State, Justice Rabi Umar.

The sole purpose for their visit according to the director, was to explain the activities of the university and also to offer her an appointment letter her to serve as the University's goowill ambassador.

The director who narrated the various academic programmes of the university, , benefits of enrolling, said the university is unique in terms of Flexibility and affordability.

He explained the admission processes in Noun, various faucalties and emphasized the convenience stress free nature of the system.

Speaking on the law admission, the director said the Nigerian Law School has opened its doors to the law graduates of the National Open University of Nigeria (NOUN), with the first batch graduates of NOUN admitted into the Law School

The director said Council of Legal education has recently visited the University for resource assessment after reviewing the credible and exceptional performance of NOUN students at the Nigerian Law school.

The director assured that law undergraduate programmes would soon resume, as the university set to address the challenges that led to the suspension of the law admission and also to commence postgraduate programme in Law.

He reiterated the advantages of NOUN in terms of flexibility, saying that women in purdar don't have to leave their various locations to come to the class since the mode of operation of the institution affords them the opportunity to study from where they are at their own pace and time.

While offering an appointment letter to the Chief Judge to serve as the good will ambassador of the university, the director expressed his confidence on her passion and struggle for women educational empowerment.

In her response, the Chief Judge, Justice Rabi Umar,  who welcomed the team, expressed her appreciation for the appointment and awareness about NOUN and promised to advocate for the university to attract more women enrollment to the centre.

She commended the university for doing a great job by bringing education to the door-step of Nigerians and especially to those who, for one reason or the other, have been denied access to education.

She advised the management of the Bauchi Study Centre to raise the level of awareness of it's operations, as activities of the centre have been grossly under publicised

She promised to help the University to achieve it's mandate in Bauchi and it's environs.
Log in to post comments
55 views