By Joel Nkanta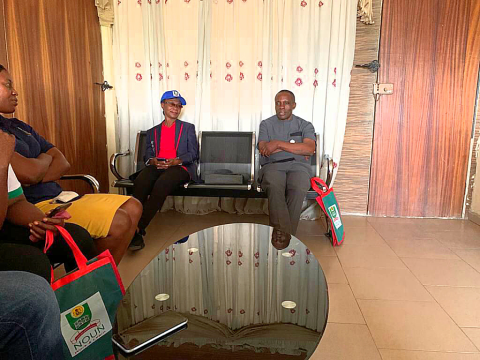 The management of Calabar Study Centre of the National Open University of Nigeria (NOUN), Calabar, Cross River State, recently took its advocacy campaign to the headquarters of the Cross River State Universal Basic Education Board (SUBEB).

Centre director, Prof. Onyeka Iwchukwu, who led the advocacy team, addressed the staff of SUBEB, sensitising them on the workings, prospects, opportunities and advantages of studying at NOUN. 

SUBEB chairman, Dr. Stephen Odey, himself a former facilitator at the Faculty of Education, NOUN, received the NOUN delegation, expressing delight at their visit.

 Iwuchukwu's presentation was made simpler by the testimonies of Mr. Cyril Itam, Board Secretary, SUBEB, who is a graduate of NOUN. 

Itam's testimonials did not only corroborate the facts presented by the centre director, but also reinforced the credence of the presentation, as well as encouraging members of staff of the organisation to enroll at NOUN for various programmes.

Souvenirs were presented to the management and staff of SUBEB.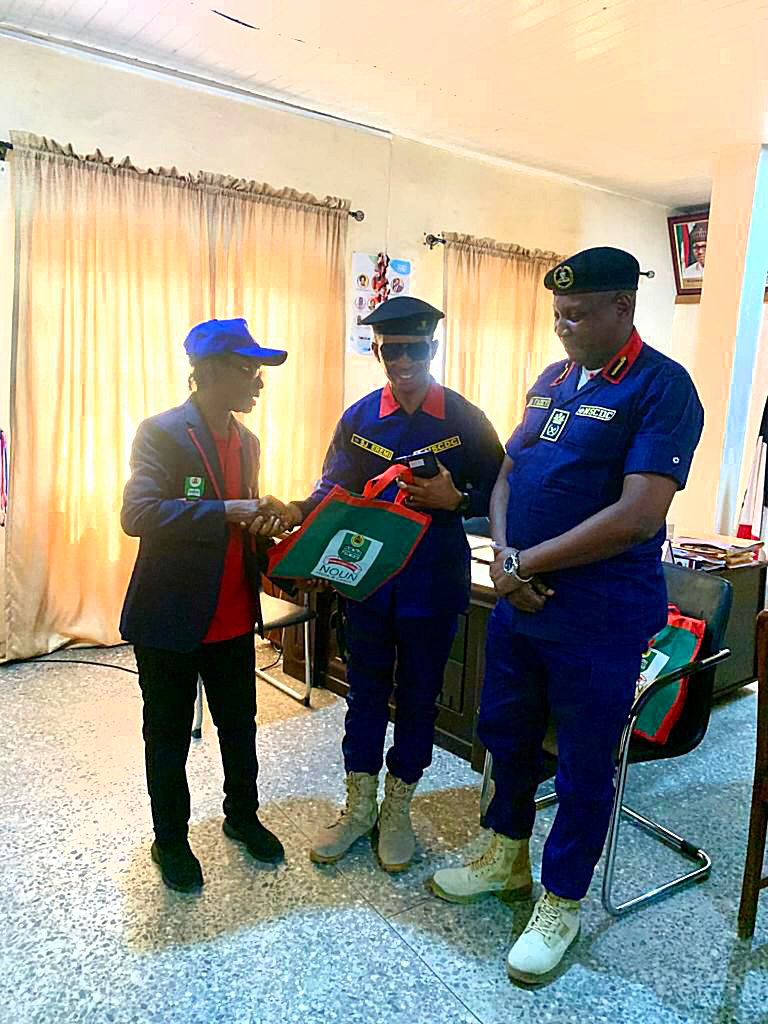 In a related development, Iwuchukwu also led members of her advocacy team to the headquarters of the Cross River State Command of the Nigerian Security and Civil Defense Corps (NSCDC), on an advocacy campaign.

The centre director, explained to the personnel of the paramilitary formation, the mode of operation of the National Open University of Nigeria (NOUN) as well as opportunities that abound in the system and the advantages of enrolling in the Nigeria's premier Open and Distance Learning (ODL) university, especially as career persons.

"NOUN offers a number of good security-related programmes. I, therefore, urge you to take advantage of these beautiful programmes and enroll in the university to upgrade yourselves, and your academic and professional status in order to key-in to emerging opportunities,"
Iwuchukwu said.

The state commandant of NSCDC, Mr. S. A. Fadeyi, who received the NOUN advocacy team, expressed his gratitude to the centre director and his team, for "finding our command worthy to share in the good news of self-development," which NOUN promotes.

 He promised to disseminate the information to all the units of the NSCDC in Cross River State.
Log in to post comments
94 views