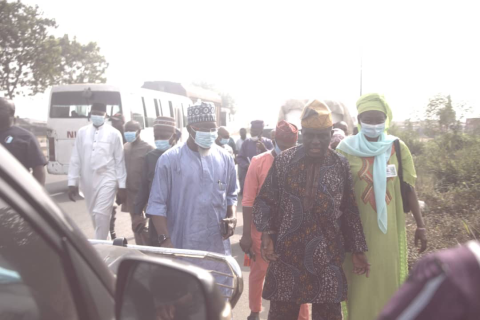 In furthering the mandate of the National Open University of Nigeria (NOUN), members of the university governing council have visited to inspect a land for the construction of a proposed befitting and state of the art study centre in Ikorodu, Lagos.

The land which is located along Majidun Awori in the Ikorodu axis of Lagos State is said to be an acre, according to the owners.

Having a study centre strategically located in a  locale like Ikorodu would enhance accessibility to and affordability of tertiary education to the people of Ikorodu and its environs.

In his brief remark, chairman of the council, Prof. Peter Okebukola, said that due diligence would be followed to the letter before the land is acquired.

He explained that land purchase is serious business and the university must be careful so as not to get embroiled in a tussle with land grabbers and dubious elements.

Okebukola also stated that NOUN would engage the state government to help with necessary investigation and information about the land before it is obtained.

Council members who visited the site include the chairman, Prof. Peter Okebukola, deputy vice-chancellor (Academic), Prof. Uduma O. Uduma, deputy vice-chancellor (Admin), Prof. Isaac S. Butswat; deputy vice-chancellor Technology, Innovation and Research), Prof. Monioluwa Olaniyi; the university bursar, Dr. Ernest Odeigah; the librarian, Dr Adam Gambo Saleh; director,  Physical Development, Works & Services, Mr. Smart A. Abulu and others.
Log in to post comments
301 views