By Ikechukwu Onyekwe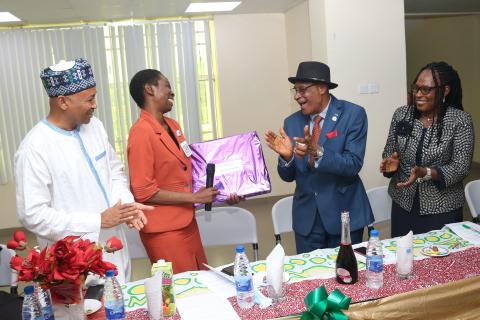 The Faculty of Health Sciences of the National Open University of Nigeria (NOUN) has held a befitting send-off party for one of its pioneering professors, Prof. Mba Ogbureke Okoronkwo (OON), who retired from active service.
The event, which took place recently at the NOUN's Central Library Hall, had the Deputy Vice-Chancellor, Technology, Innovation and Research (TIR), Prof. Monioluwa Olaniyi, the DVC Administration, Prof. Issac Butswat, deans of other faculties, HODs within and outside the faculty, the celebrant's family and friends in attendance.
Okoronkwo, who was once the DVC Administration and also one of the pillars of the faculty, received commendations from the sundry speakers, who extoled his various roles in the university and described his service years as meritorious.
The dean of the faculty, Prof. Abdullahi Shehu, thanked the exiting professor for what he has done to the faculty since its inception and acknowledged that he wouldn't be standing there as the dean if not for the commendable works, struggles and sacrifices of Okoronkwo to ensure that the faculty survived.
Consequently, the dean conferred on Okoronkwo the lifetime title of a member of the board of the faculty.
A number of goodwill messages were offered by the participants, who took time off to reflect on Okoronkwo's involvement in strengthening bonds within the faculty, as well as being strict and accommodating and many other positive traits during his stewardship.
The celebrant's son, Ugochukwu Okoronkwo, who said a few words about his father, underscored the disciplined nature of his father that trickled down to his children, even as he hinted how his father rarely sleeps at night due to his love for studying. 
Responding, Okoronkwo, visibly overwhelmed by the outpouring of commendations, thanked everyone for their kindness and solidarity.
He also thanked the dedicated officers he met on ground at the faculty and for all the cooperation he enjoyed while working with them.
The celebrant, who was the first to deliver an Inaugural Lecture in the university, equally advised the young academics in the faculty by encouraging them never to stop studying and publishing their research works as well. "Any academician without research works is not ready to advance."
Log in to post comments
261 views