By Mba Ude Ude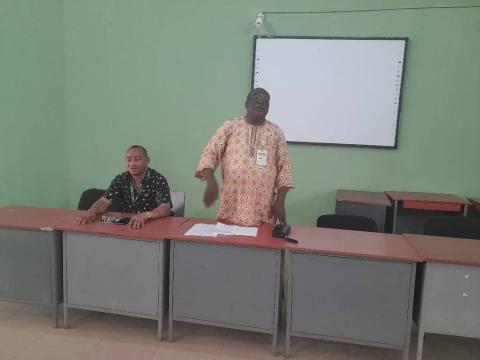 The Management of Enugu Study Centre of the National Open University of Nigeria (NOUN), has held a sensitisation forum for students at the centre.

The forum, according to the centre director, Prof. Alexander Uche Onyia, was meant to intimate students on the operations and activities of NOUN as an Open and Distance Learning (ODL) institution driven by technology.

He said students who desire excellence in their academic pursuit must strive to be computer compliant and give their studies the serious attention.

"We have a well trained and experienced personnel designated as desk officers for all the faculties in NOUN. They are at your disposal for accessing genuine and accurate information and in case of grey areas I should be consulted for prompt response. It is dangerous to rely on hearsay attitude of gathering information," Onyia said.

The director, while emphasising on the importance of early course and exam registration, also said that the university management pays high premium on zero tolerance to exam malpractices, even as the culprits would be mercilessly dealt with.

Speaking on hiked tuition fees, Onyia said that all federal universities in Nigeria have increased their school fees and in comparison, the NOUN's tuition fees are still the cheapest.

As good ambassadors of NOUN,  Onyia charged them to shun acts capable of tarnishing the image of the institution and stated the dangers of patronising fake cyber-cafes.

He acknowledged the benevolence and magnanimity of the university management in provision of hard course materials and advised students to download online course materials that may not be in hard form.

Students took turns to ask questions on grey areas and the centre management provided the required answers, even as the forum ended smoothly.
Log in to post comments
32 views