By Mba Ude Ude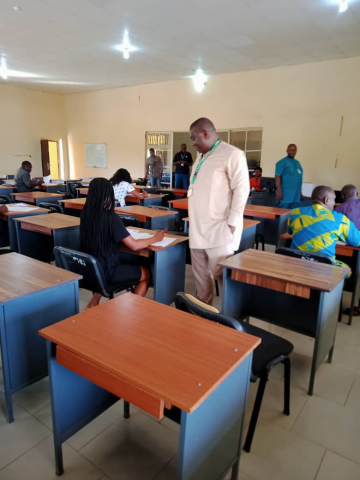 The Deputy Vice-Chancellor (Academic), National Open University of Nigeria (NOUN), Prof. Uduma Oji Uduma, has described as satisfactorily the administration and conduct of the on-going 2021_2 Pen-On-Paper (POP) examination.

He disclosed this when he monitored the exercise, on Friday, 19 November 2021, at Enugu Study Centre.

While acknowledging the highly competent staff at the centre, he also commended them for their commitment, cooperation and their synergy, stressing that the staff know what to do at any given time.

 Uduma also expressed happiness with the students' conduct by adhering to the rules and regulations guiding the examination, even as no irregularities were recorded.

He applauded the centre director, Prof. Alexander Uche Onyia, for his exemplary leadership of hard work, which culminated in the smooth exercise.

Commenting on the POP examination at Awgu Community Study Centre, Uduma explained that the exercise was perfectly seamless, adding that students observed the dos and don'ts of the examination.

 He reiterated that the centre director, Dr. Oforbuike Nwachukwu, was in firm control of the system.

According to Uduma, the staff were dutiful, cooperative and work assiduously in ensuring a peaceful exercise.
Log in to post comments
106 views