By Sunday Adama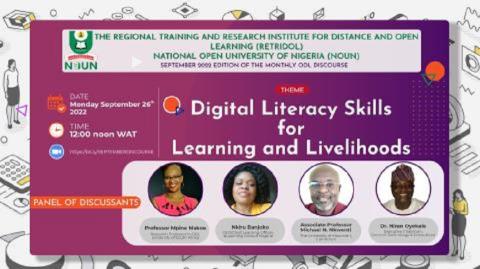 As the world continues to witness evident changes in technology-driven work and employment, panelists at the Open and Distance Learning (ODL) Monthly Discourse have called on every African to be digitally literate in order not to be left behind in the 21st Century struggle.
They made this call on Monday, September 26, 2022 while presenting papers virtually at the September edition of ODL Monthly Discourse, being organised by the Regional Training and Research Institute for Distance and Open Learning (RETRIDOL) at the National Open University of Nigeria (NOUN) headquarters, Jabi, Abuja.
The panellists were:  Research Professor in ODL, University of South Africa, Prof. Mpine Makoe; a don at the University of Yaoundé, Cameroon, Associate Professor Michael N. Nkwenti;  CEO/Chief Learning Officer, eLearning Consult Nigeria, Nkiru Banjoko and Executive Chairman, Commit Technology & Consult Ltd, Dr. Niran Oyekale.
While speaking on the topic: "Digital Literacy Skills for Learning and Livelihoods," the quartet were unanimous that "Digital literacy is the ability to define, access, manage, integrate, communicate, evaluate and create information safely and appropriately through digital technologies and networked devices for participation in economic and social life."
In her presentation, Prof. Makoe, while calling on Africans to embrace  digital literacy, said it facilitates teaching and learning in educational spaces, adding that "we can use it optimally for the benefit of the teachers and learners.
" I believe that things change as we go along. One of the things that I do is that I do research in the universities of the future and I know that universities of the future are likely to be more digital, are likely to be more open, are likely to be more flexible, so I'm looking at it from that perspective."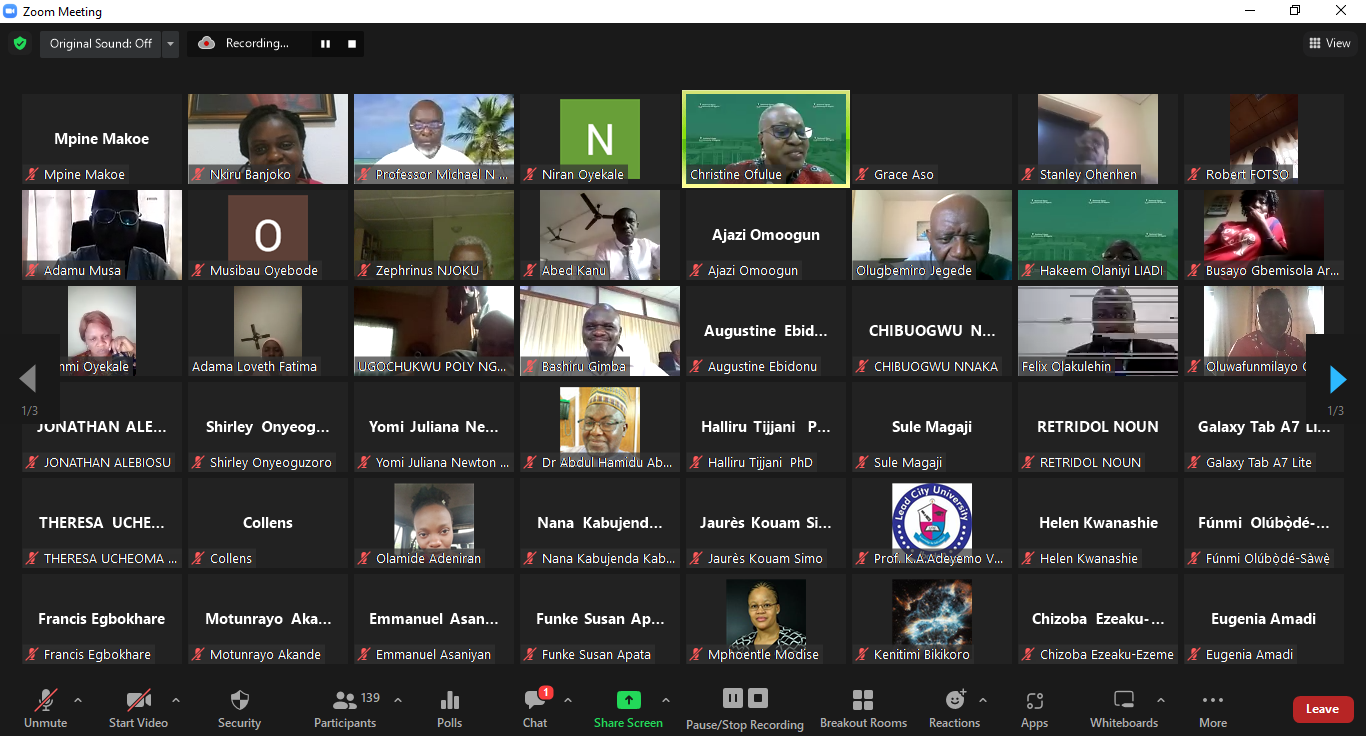 While calling on Africans to look inward and improve on what the continent has, Makoe pointed out that Africans' over-dependence on western world is affecting the continent technologically, adding that "we forget what we have and trying to do research on what we have and improve on what we have.
"As a teacher I need to be literate in those things so that I will be able to impart the learners to see the world differently. I cannot teach the way I was taught because the environment is different and the future demands me to teach differently so that the students that I'm empowering now will be able to do the job that demands."
On her own part, Dr. Banjoko, while calling on Africans to go back to the basics, said that digital literacy is all-encompassing, adding that it involves language literacy,  media literacy, information literacy, computer literacy among others even as the literacy brings about enhancements in pedagogy.
In a related development, a Cameroonian-based Professor, Michael N. Nkwenti, who spoke on the need for digital skills, said that everybody needs digital skills in the present-day society to be able to function well.
Nkwenti said that digital literacy is needed  in both academics and for individuals' livelihoods as it helps teachers to impart knowledge without depending on the traditional use of paper and pen.
"There is no way you can function in this present society without the digital skills and it is happening in every sector," he said.
In his own perspectives, while shedding more light on the topic, the Executive Chairman, Commit Technology & Consult Ltd, Dr. Niran Oyekale said "we need to provide every African with the 21st Century skills to be able to navigate well and be future-prove for learning and livelihoods."
At the end of the discourse, RETRIDOL director, Prof. Christine Ofulue, thanked the discussants as well as the participants for their contributions.
Log in to post comments
85 views