By Inuwa Hamza Yunusa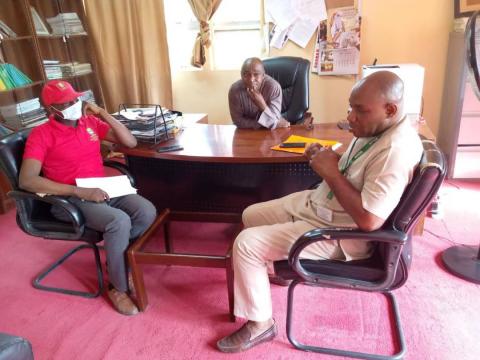 The dean, Faculty of Social Sciences of the National Open University of Nigeria (NOUN), Dr. Moses Etila Shuaibu, has monitored the administration of the ongoing 2021_1 e-examination at the Dutse Study Centre, Jigawa State.

Shuaibu was warmly received by the centre director, Dr. Aliyu Musa, who, following a short discussion, took his visitor round the examination halls to ascertain the extent of the exercise.

Shortly after going round, the dean had an interactive session with the director and staffers of the centre.

He commended the centre director for his ability in ensuring a perfect administration of the ongoing examination, which he described as seamless.

Shuaibu further urged the staffers to continue with the spirit of team work built in them by the centre director, which he described as the panacea for effective discharge of responsibilities.

Moreover, he commended them for their enthusiasm and dedication to their duties, informing them of the Vice-Chancellor's passion for the welfare and development of NOUN Staff.

"Therefore, all staff must put in more effort to yield maximum productivity," he said.

He called on the director to provide all kinds of incentives in order to get the best out of his staff and improve their efficiency of work.

while welcoming the dean in his office earlier, the director, Dr. Aliyu Musa, appreciated the dean for his tireless effort and wished him success in all his areas of endeavor.

Musa assured that more fruitful results will emanate from Dutse Study Centre as they have no any other goal than ensuring that they uplift the university to greater heights.  

 
Log in to post comments
197 views