By Ibrahim Kabiru Sule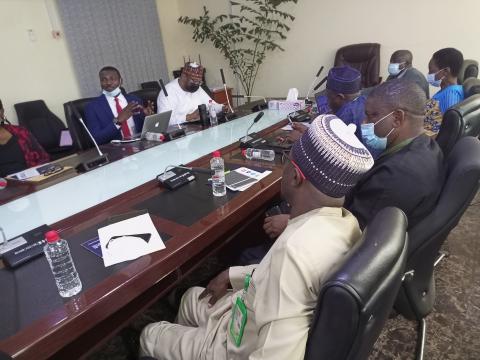 An indigenous technology consulting and advisory firm, SeamlessHR, has presented a proposal to automate the university's Human Resource, Recruitment and Learning Management Systems towards an effective and efficient IT solutions.
The Lagos-based company, led by its MD/CEO, Sa'idu Abdullahi, was at the headquarters on Monday 23rd August, 2021, where it demonstrated its proposal to the representative of Vice-Chancellor, Prof. Isaac Butswat, who was flanked by the DVC, TRI, Prof. Monioluwa Olaniyi, MIS director, Prof. Muhtari Alhassan and a host of other relevant officials.
In his opening speech, Abdullahi said his firm, which boasts of over 350 clients from across different sectors in Africa, hopes to help the university in managing its vast human resource aspects via a full blown management system.
While going down to the bit by bit aspect of the presentation, the company's Vice President, Sales, Mr. Chidi Orji, explained that SeamlessHR is a robust cloud-based platform designed to manage end-to-end HR, much to the delight of employees.
He said the company provides HR solutions tailored to address the peculiarities of the African business environment, even as he stressed that SeamlessHR implements its services swiftly and seamlessly.
Orji, who laid bare the easy workflow processes, told the NOUN officials at the meeting that "we don't just technology. We also provide training, change management and (an) ongoing technical support."
Series of questions, including the technical ones, were thrown as part of effort to ensure the system's fool proof authenticity, which the presenter, alongside the MD/CEO duly responded to.
On how the system can accommodate the peculiarity of NOUN, the company said it is a flexible system, which makes it capable to tweak and suit any organisation.
The HR information system, according to him, manages all employees' information and documents from one secure, central database.
Prof. Butswat, who led the meeting, reminded the company of the unique feature of university system, where academic staff go for sabbatical, vising lecturing and contract staff, which SeamlessHR assured to be taken care of when given the greenlight.
Log in to post comments
57 views