By Inuwa Hamza Yunusa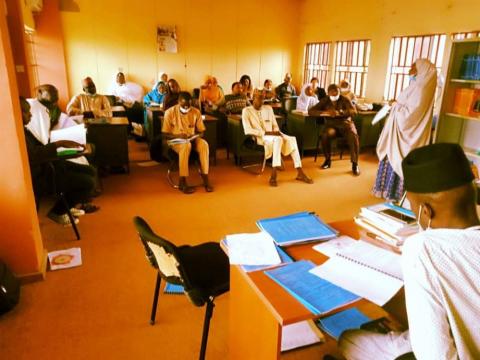 In partial fulfillment of the requirement for the award of degree certificates in Nursing Science and Public Health Science by the National Open University of Nigeria (NOUN), students of the Faculty of Health Sciences have on 26th July, 2021 held a seminar presentation at Dutse Study Centre.

The students were drawn from Nursing and Health Science Departments who have registered for (NSC 118); Core Areas in Public Health (PHS 512) and Seminar in Public Health (PHS305), respectively.

Delivering his welcome address, the director, Dutse Study Centre, Dr. Aliyu Musa, represented by the centre's Accountant, Mr. Barnabas Shut, highlighted the importance of the seminar as an avenue for the students to rub their minds on the developing and emerging issues in their various fields of study.

He further explained that the presentation serves as an avenue through which emerging areas are revealed for further research to be conducted.

Shut maintained that through the presentation, students are able to understand their weak areas and improve on them. "No doubt about it, this is another avenue of learning," said Musa.  

The presentation was moderated and supervised by Dr. Abdullahi Haruna Ibrahim of the Department of Public Health, Ahmadu Bello University, Zaria, who was also the centre's Facilitator.

 Commenting, Ibrahim thanked the students for their zealousness and in-depth analysis, even as he proffered certain appraisal and solutions to the various topics they deliberated on.

Some of the topics discussed were "Manifestation, Prevention and Control of Covid-19",
"Postpartum Hemorrhage as One of Obstetrics Emergency", "Factors Hindering the Effective Exclusive Breastfeeding Among Breastfeeding Mothers", "Management of Chronic Kidney Disease", among others.

Clinically, at the end of the presentation observations and corrections were made and questions were raised where the students substantially responded, accordingly.
Log in to post comments
198 views