By Emem Oshionebo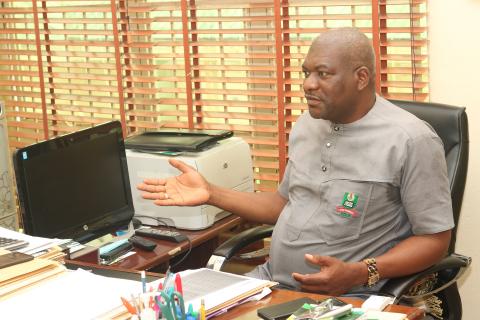 The acting director of security, Malam Isa D. Shehu, has said certain measures employed by his office have significantly stemmed the recent cases of theft in the university.
One of such measures, he explained, was giving authority to the armed security patrol team of the university to shoot when necessary.
Shehu stated this during an interview with the NOUN News correspondent at his office in the university headquarters, Abuja.
According to him, the institution has recorded several cases of theft that involved university staff exiting the premises with office items in their cars.
"If you are exiting with the university's property, you have to obtain an exit clearance from the security directorate,'' he explained.
The acting director also attributed the recent development of issuing car tags at the entry point of the institution's headquarters to the move towards strengthening the security and control within the university.
Shehu revealed that the issuance of car tags at the gate would have commenced prior to this time, but this was not achieved due to certain financial constraints.
"In the case where a car tag is misplaced," he stated, "such a person should immediately report to the university's Directorate of Security Services (DSS) for necessary actions to be taken, else exit will be denied.''
He, therefore, admonished staff not to keep their car tags inside their cars for security reasons, even as he advised everyone to adhere to the security directives and checks at the entrance of the premises with the aim of achieving a safe working environment for all.
Log in to post comments
415 views