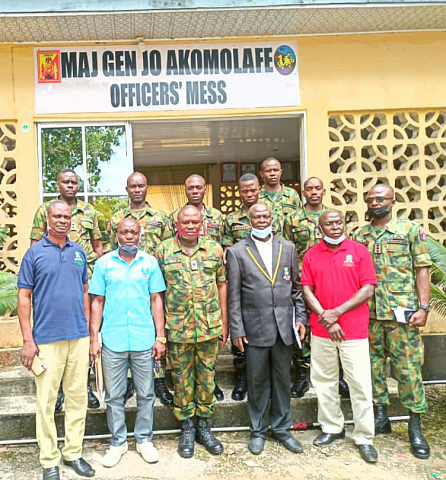 The Ikom Community Centre of the National Open University of Nigeria (NOUN), Ikom, Cross River State, has taken its advocacy campaign to the military and paramilitary formations in the city.

The centre director, Dr. Edwin Bassey, on Wednesday, 23 September, 2021 led his advocacy team to the 245 Recce Battalion of the Nigerian Army at Afi Barracks, Ikom, to publish the gospel of Open and Distance Learning (ODL) mode of instructional delivery as promoted by NOUN.

Bassey, disclosing the purpose of the visit of his team to the barracks, stated that he was there to sensitise the officers and men of the battalion on the need to upgrade their academic status while serving the nation.

He opined that the best way for the service men to achieve the ideal of upgrading their academic status is to embrace the NOUN version of educational delivery, which is the ODL.
The director said the flexible nature of ODL, which affords an opportunity for learners to study wherever they are, at whatever time that suits them and whatever study load they can carry at whatever academic period, was the best for service men.
Explaining further, he said the system makes it possible for them to keep studying on the move, carrying their classrooms in their pockets and their backpacks without any fear of dropping out and starting afresh at a new location.

Responding, Major Unubi Jonathan Atumeyi, the second in command to the battalion commander, described the visit of the NOUN team as one in a million visits.

Atumeyi assured the visiting team that the officers and men of his battalion would take advantage of the wonderful and flexible mode of education offered by NOUN to enrol at the university in order to improve upon their academic status.

In a similar development, Bassey had a day earlier led his advocacy team to the Divisional Police Headquarters of the Ikom Command of the Nigeria Police Force (NPF), Ikom, as part of the community centre's advocacy campaign.

Superintendent of Police, Efoli Osang, the Divisional Police Officer (DPO) who received the team, described the visit as the best of its kind since he assumed office as DPO at the division.
He pledged to nurture and maintain a strong relationship between his command and Ikom Community Study Centre of NOUN.

Osang said he would encourage his officers and men to enrol at the university as an opportunity for capacity building.
Log in to post comments
89 views