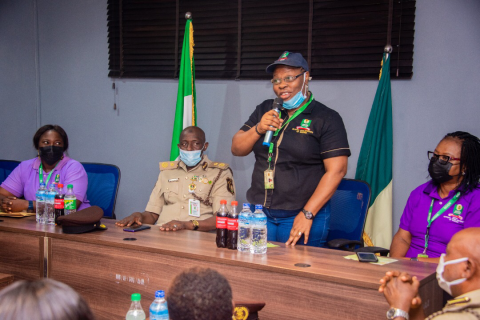 The Director, Lagos Study Centre, Dr. (Mrs.) Alero Akujobi, has led a powerful advocacy team on a courtesy visit to the Deputy Comptroller, CPO A.I Liman and officers of the Nigeria Immigration Service, Ikoyi Passport Office as part of the centre's routine activities to promote the university's operations.

Akujobi stated that the purpose of the visit was to sensitise the immigration officers on the mode of operations and the academic programmes currently being run in the National Open University of Nigeria (NOUN).

In her discussion with the deputy comptroller, the director listed various programmes offered by the institution and dwelt longer on the courses in the Faculty of Social Sciences, due to their relevance to immigration dutie.

She also took time off to talk about the flexibility NOUN provides, explaining that courses are fully accredited, cost-effective and students can learn at their own pace in any place.

''Courses offered in the university are fully accredited by the NUC with no age barrier to being admitted into NOUN,'' she informed her host.
The director, therefore, urged the officers to take advantage of the many benefits NOUN offers and enrol as students.

In his response, Liman thanked the centre director and her team for the visit, assuring them that he and some senior officers would key-in to the relevant programmes as they relate to their job.
He said officers will be encouraged to enrol in specific courses like Criminology, Security Studies as well as Peace Studies  and Conflict Resolution.

The centre's Chief Counselor, Mrs. Caroline Agbogidi took charge of the question and answer session, after which souvenirs were exchanged by both parties at the end of the visit.

The director was accompanied by the Deputy Registrar Mrs. Mona Uduak, Principal Assistant Registrar, Mrs. Umoru Elizabeth, Systems Analysts, Mr. Al- Hassan Abba and Bukar Haruna.
Log in to post comments
57 views