Tope Oyewole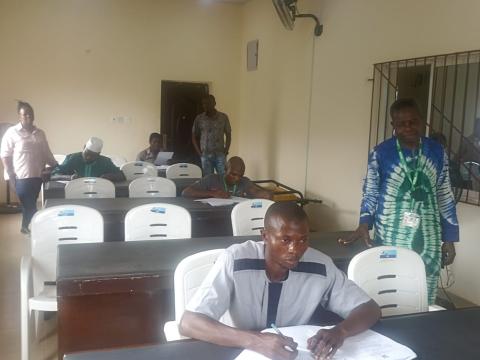 Ilaro Community Study Centre holds first POP Examination
The National Open University of Nigeria's (NOUN) newly created community study centre, Ilaro, has been participating in the ongoing 2022_2 Pen– on– Paper semester examination, the first in the history of the new centre.

Prior to the commencement of the examination, many students at the centre were apprehensive with the impending examination.

However, according to the acting director, Mr. Ayokunle M.Ola, "this is because their exam mentality is feeble. Perhaps, they do not know the importance of examination.

"Examinations at the National Open University of Nigeria (NOUN) are of utmost importance. All examinations are a part of the growth of the students of the university, testing their knowledge and capability.

"The university examinations are intended to develop students' sense of responsibility and to determine whether they understand the courses they were taught. Thus, examinations improve the general personality, memory, and revision skills of NOUN students and do not depress them."

The foregoing underscored the inauguration of the university examinations and its administration at Ilaro Community Study Centre, consequent on the approval given by the Vice –Chancellor and his Management team"he said .

At the centre, the director and his crew, Mr.Oliver Y. Ejigbo, an Administrative Officer I ensure that the examinations are smooth running without hitch, as they keenly supervise and invigilate at the centre's Moot Court, the venue designated for the Pen– on–Paper examinations.
Log in to post comments
194 views