By Mba Ude Ude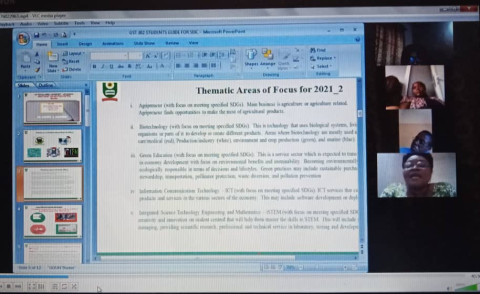 Starting a business requires critical identification of problem prevalent in the chosen community with the aim of coming up with solution and doing what is needful, the Coordinator, South-east Incubation Zone, Dr. Loveth O. Ekwueme, has said.
Ekwueme disclosed this during a 1-day virtual sensitisation programme for students in the region, aimed at acquainting them on the philosophy of Business Creation & Growth (GST 302) in preparation for the presentation of their business plan proposal so as to come out excellently.
The incubation zone's areas of focus for business plan proposal, according to her, are the four out of seventeen Sustainable Development Goals (SDGs) of the United Nations, which are to alleviate poverty, zero hunger, good health & well being and quality education.
The former Ag. Head of Department (HOD), Library and Information Science, reiterated that the zone's thematic areas of focus are Agripreneur, Biotechnology, Green Education, Information Communication and Integrated Science Technology Engineering Mathematics (ISTEM).
The coordinator stated that students are expected to link their business plan proposals to synchronize with the thematic and SDGs, with the purpose of bringing out their creative and innovative ideas.
She reeled out the content's requirement of a student's business plan write up, which, among others, are executive summary, mission & vision statements and product/service description.
While acknowledging that the course is compulsory without which graduation would be elusive, the coordinator cautioned on the dangers of handling it with levity.
Ekwueme emphasised the importance of decent dressing when appearing for a virtual meeting as well as having business plan proposal of products/services in videos form.
Log in to post comments
69 views