Miriam Obierika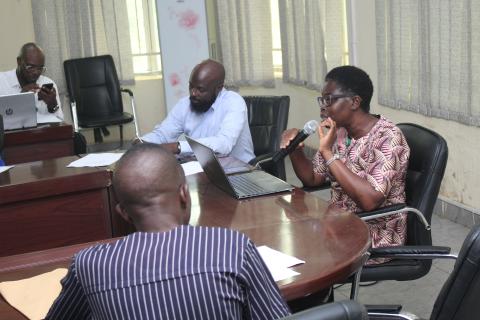 The Director, Directorate of Quality Assurance, Prof. Juliet Inegbedion, has called on the various Desk Officers at the directorate to strive towards ensuring that the quality of service offered by the university is top notch.
She said the directorate focuses on compliance and, therefore, is looking for ways to improve on the university's activities.
The Inegbedion made this call at the maiden regular meeting of the Directorate of Quality Assurance with the newly-installed Quality Assurance Desk Officers from the faculties, directorates and units, which was held on Monday, July 17, 2023, at the university headquarters, Abuja.
According to her, "we have a product that we are marketing and selling, which is quality in open and distance learning and our target market is the prospective and existing students. The only way to measure the quality of what we are providing is through our products which are our graduates."
She noted that fitness for purpose and fitness of purpose are keywords to look at when considering quality, therefore, everything done in NOUN must be in accordance with the mission and vision of the university.
Looking at the university vision, Inegbedion said, "there are two basic areas that we are concerned with, which are access and quality. While with the mission of the university, we are focused on functional, cost-effective and long-life learning.
"Therefore, as quality assurance officers, our driving force is our mission and vision, and we must work towards achieving them."
Speaking on the duties of the officers, she said their specific roles include communicating the university quality policies, processes and procedures to all staff in the faculties, directorates, units and study centres.
Desk officers should be working with their directors, heads of units and deans to develop and present the standard operating procedures to the quality assurance directorate for approval, monitoring, compliance of SOPs in their various units, directorates and faculties and identifying gaps and challenges limiting improvement in SOPs, she said.
Log in to post comments
94 views