By Ambrose Bernard Gowon & Emem Oshionebo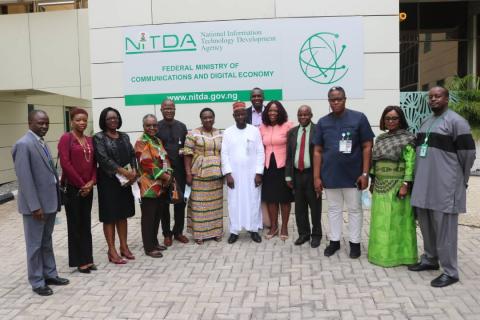 The World Bank-assisted Africa Centre of Excellence on Technology Enhanced Learning (ACETEL) has embarked on a tour of facilities at the National Information Technology Development Agency (NITDA) and the National Centre for Artificial Intelligence and Robotics (NCAIR) in Abuja, with a focus on giving quality internship for its postgraduate students.
The centre, led by its director, Prof. Grace E. Jokthan, was received by the representative of the NITDA Director-General, Dr. Idris M. Yelwa and his management team. 
In his welcome address, the DG traced a mutual working relationship with ACETEL and the National Open University of Nigeria (NOUN) spanning over three years even as he elaborated on the diverse benefits of this collaboration for both organisations. 
"One of the benefits of this partnership is the acceptance of internship placement for NOUN students in ACETEL programmes for a minimum period of one month and maximum of 3 months," Yelwa said.
He said the importance of students having a hands-on skill can never be over emphasised, as NITDA remains a platform that encourages students in not just academic certifications, but the digital skills as well.
While at the National Centre for Artificial Intelligence and Robotics (NCAIR), the ACETEL team was received and given a brief orientation about the centre by its National Director, Engr. Yau Isah Garba.
Garba informed his visitors that "This branch of NITDA is a digital innovation and research centre focusing on the Artificial Intelligence and  other emerging technologies, aimed at transforming the Nigeria digital economy through innovation driven entrepreneurship, job creation and national development.
"We are always excited to have interns to learning these skills,'' he stated.
In her response, the ACETEL director, Prof. Grace E. Jokhtan expressed her profound gratitude to NITDA saying, the visit has not only showed NOUN the resources and infrastructure available at the organisation, but has also exposed so many potentials embedded in the partnership.
According to Jokthan, ''The ACETEL programme is for postgraduate students only, but currently we are placing only M.Sc. students in the internship cutting across Artificial Intelligence, Cyber Security and Management Information System.''
She added that the centre celebrates this maiden internship for postgraduate students, as she informed NOUN News that international students are also participating in the programme at their country of residence and appropriate provisions have been made  to oversee the activities of these students.
The entourage involved the Deputy Centre Director, ACETEL, Dr. Vivian Nwaocha, Prof. Christine Ofulue, Dr. Adewale Adesina, Dr. Gregory O. Onwodi, Dr. Johnson Opateye, Dr. Juliana Ndunagu and the Admin Team leader, Chidibere Nwankwo.
Log in to post comments
108 views