By Inuwa Hamza Yunusa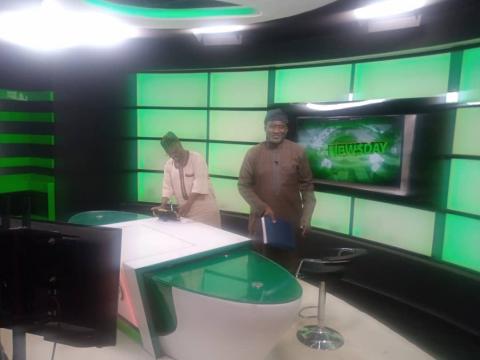 In a move to commemorate the International Literacy Day, the Kaduna State Media Corporation(KSMC) has hosted the Director of Kaduna Study Centre, National Open University of Nigeria (NOUN), Dr. Aminu Umar to partake in a special education programme.
It was aimed at showcasing the importance of education and the need to exploit the abundance of opportunities brought to the populace by the university.   
Responding to some of the issues raised in connection to the duration of courses in the university, Umar explained that NOUN and any other conventional university in the country are guided by one single regulatory body, the National Universities Commission (NUC).
He said NOUN is a famous and recognised university, "although others are coming onboard but the reality is that, what we do and the way and manner we package our own activities are Information and Communication Technology inclined.
"With the National Open University of Nigeria, the students are a little better, because when you enroll in one of the courses, which is supposed to last for four years and after the first semester and realise that you are financially recessed to finance the second semester, in the case of NOUN, you may differ the semester untill when you are able to fund the wallet to pick up the challenge of the next semester.
"Therefore, the students may slightly go higher in terms of duration depending on the student. But if they are committed to the four years, they graduate at normal duration like any other student in other conventional university."
He said once a student joins the university, he would have a "wallet," where he saves to fund for his programme and it is with the university.
"Fifty thousand naira, ten thousand, five thousand, two thousand and even one thousand can be deposited until you are able to register for the semester. If a student has a balance after graduation in whatever he is contributing, the only thing is for him just to write a single line word to the university in a single line letter: 'refund my money' and without any headache the university will refund your money back.
"The admission process of the university is flexible in the sense that there are no any requisite requirements like JAMB, post-UTME, which mostly stand as impediments to students to gain entry into the universities. For NOUN, SSCE certificate is the key," he said.
The director added that the university has over 100 study centres across the 36 states of the federation, with about 95 academic programmes, including Nursing and Public Health programmes.
Umar informed that NOUN is the first and only university in Africa to give free education to inmates in prison throughout the country.  
Log in to post comments
32 views