By Inuwa Hamza Yunusa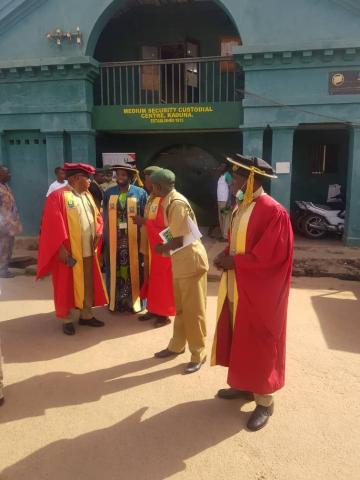 The Kaduna Study Centre has matriculated nine prison inmates at the Medium Security Custodial Study Centre, Kaduna, for the 21st Matriculation Ceremony of the university.
Speaking at the event, which took place on 22 November, 2021, the Vice-Chancellor, Prof. Olufemi Peters, stated that the occasion was unique and will continue to be inspiring as it remains a statutory gathering to formally admit deserving and qualified candidates who are fortunate to be offered admission into higher education. 
The Vice-Chancellor, represented by the Director, Kaduna Study Centre, Dr. Aminu Umar, disclosed that the choice of the students to pursue academic certificates at the university was indeed well-informed.
He acknowledged that the students have already undergone an orientation programme in Open and Distance Learning (ODL), but went further to explain that the university's learning content and service delivery facilities are being upgraded continuously with innovations in the use of Information and Communication Technology. 
In his address, the Comptroller of Correction Service, Kaduna, Umar Audu, expressed his gratitude for witnessing the matriculation ceremony of the inmates into the NOUN Medium Security and Custodial Study Centre, Kaduna. 
According to him, the Custodial Study Centre, established on 10 December, 2014 and graduated only a lone student, now witnesses a surge in the number of enrollment.
He said as the numbers keep increasing, so do the university also keying-in to the focal point of the Nigerian Correctional Services Act, 2019, which is a comprehensive reformation of offenders through access to quality education and training in vacations. 
Audu informed that presently, five inmates are running their postgraduate programmes, 14 are in 400 level, fifteen in 300 level, thirteen in 200 level and nine are 100 level students. 
Moreover, he added, four of the students are on the verge of graduating after this semester examination with BSc. Communication Technology, B.Sc Computer Science, B.A Christian Theology and B.Sc Biology. 
The comptroller then congratulated the students and implored them to consider themselves lucky and take their studies serious. 
Log in to post comments
124 views