By Inuwa Hamza Yunusa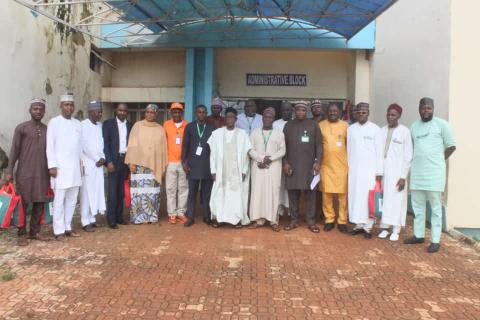 A high-powered delegation led by Mr. Abdullahi Yusuf, the Director, Kaduna Study Centre, has paid a courtesy visit to the Management of the National Board for Arabic and Islamic Studies (NBAIS). 
The team was received by the NBAIS Registrar, Prof. Muhammad Shafi'u Abdullahi and the Principal Officers of the board at the its headquarters located within a stone-throw of the study centre in Kaduna. 
The visit, according to the registrar of the board, was the first of its kind from the university despite the proximity of the two institutions in the state. 
Abdullahi therefore appreciated the effort of the management of the Kaduna Study Centre for initiating this developmental move, which would create and provide avenue for mutual understanding amongst two organisations. 
He said there was need for the staff of his board to have adequate knowledge of the opportunities at their door steps in NOUN. 
The registrar asked the board's Director, Quality Assurance to quickly organise and schedule a date for a sensitisation and advocacy, where the NOUN centre will lay bare the opportunities of the university. 
He thanked the director of the centre for the visit, stressing the need for a sustainable cooperation amongst the sister institutions. 
Earlier in his address, the Director of the Kaduna Study Centre, Mr. Yusuf Abdullahi, stated that they were at board on a courtesy visit and also to showcase what the university offers. 
The director added that the reason for the current visit was to create awareness on the existence of the university and its mode of operation. 
He urged the management of the board to enrol into the system as the three basic philosophies upon which the university operates on ensure that enrolees didn't leave a vacuum in their workplace. 
Abdullahi then called on the management of the board to schedule and converge all the staff for more sensitisation and advocacy campaign. 
Series of questions concerning some grey areas emanated from the hosting team and were adequately answered by the director.
Log in to post comments
49 views