By Joy Akiga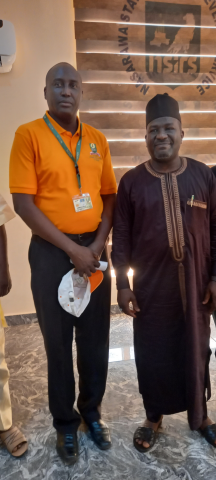 The Lafia Study Centre of the National Open University of Nigeria, (NOUN), has taken its advocacy campaign to the Nasarawa State Internal Revenue Service (NSIRS), where it solicited for a partnership that would culminate in the enrollment of its staff to the university.
The management of the centre, led by the Head of Registry, Mr. Amos Zamni Hena, who represented the director, informed the chairman of the service, Alhaji Ahmed Yakubu Muhammed and his staff of the purpose of their visit, which, among others, was to seek partnership with the board for the enrollment of its staff into NOUN programmes.
Hena, subsequent to his detailed account of the benefits of keying into the university's programmes, opined that the proposal was NOUN's contribution to the growth and development of workers in the state.
While urging the workers to take advantage of the programmes the university offers, he said NOUN was the only institution that can cater for their educational needs without taking them off their duty stations.
On his part, the state chairman of NSIRS, who welcomed the NOUN team and appreciated their visit, pledged to amplify the gospel of ODL mode of learning to his staffers.
Mohammed said he held the team in high regards for their resilience and support for the people of the state and urged them to continue with the good work of propagating NOUN.
The chairman informed the team that he is adequately aware of the existence of NOUN, as one of his directors is already a student at the Lafia centre, and assured them of his maximum support and promised to encourage his staff to enroll into the institution.
At the end of the interactions between the two teams, Hena, on behalf of the NOUN team, presented souvenir comprised of NOUN bags and T-shirts to the chairman.
Log in to post comments
99 views