By Inuwa Hamza Yunusa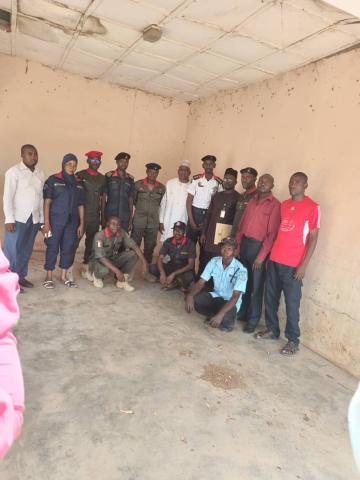 The advocacy campaign committee of the Mani Community Study Centre, has paid a visit to the Nigerian Security and Civil Defence Corps (NSCDC) Mani Local Government A, Divisional Office, Katsina State.
The centre, under the leadership of Mr. Shamwil Salisu Bala, also visited the Divisional Headquarters of the Department of State Services (DSS) and the Police Boys Secondary School located in the local government area. 
At the NSCDC office, the team was received by Divisional Officer, DSC Isyaku Umar, along with other senior officers of the division.
Speaking, leader of the team and the centre director, Mr. Shamwil Salisu Bala, said, they were at the office to sensitive the men and officers of NSCDC about the existence of the National Open University of Nigeria in their vicinity, as well as explain the university's advantages.
He said NOUN programmes are affordable compared to conventional universities especially when one compute the additional expenses of accommodations, transportation, feeding and handout which is not obtainable in NOUN. 
Responding, DSC Umar appreciated the team for the visit and assured them of his readiness to partner with the new centre in the areas of staff training and development.
Umar said he is currently a student of NOUN, pursuing a masters programme in Peace Studies and Conflict Resolution, assuring also to do everything to encourage bis officers to enroll into NOUN. 
There were questions raised by the officers which mostly centred around instructional delivery, programmes duration, and cost of the programmes, which the director responded. 
The director also took similar campaign to Police Boys Secondary School and the Divisional Office of the Department of State Services, Mani, and had an interactions with the School Commandant and teachers, as well as with officers and men of the DSS, respectively.
Log in to post comments
89 views