By Joy Akiga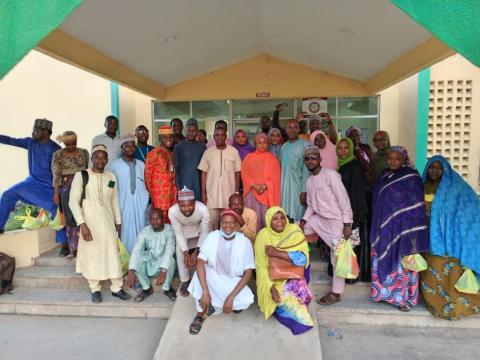 The Minna Study Centre of the National Open University of Nigeria (NOUN) has recently organised a send-off party for its staff, Mrs. Mariam Gambo Ibrahim, who was transferred to the headquarters of the university.
The Director, Dr. Mathew A. Gana, who organised the get-together and farewell to her on November 4, 2022, expressed his appreciation to her for the role she played in moving the centre forward.
The centre's treasurer, Mrs. Hajara Mohammed of the Welfare Unit, expressed her appreciation on behalf of other staff for making and keeping the welfare alive; after the departure of Mrs. Victoria N. Kolo, who resurrected the welfare during her one-year sabbatical leave from FUT Minna with the centre.
Mr. Andrew Ibrahim (AR) noted that the centre will remain grateful to her for setting up the Library Unit of the Centre as the only and first Librarian since the establishment of the centre.
 In addition, Mr. Dauda Danjuma (AR) drew her attention to the fact that "to err is human and to forgive is divine," in her response to Mrs. Ibrahim appreciation all the staff and management of the centre for celebrating her.
At the end of the event, gifts were presented to her by Mr. Eli D. Tsado (Chief Accountant) and Mr. Andrew Ibrahim (AR).
Log in to post comments
144 views