By Undiandeye Justina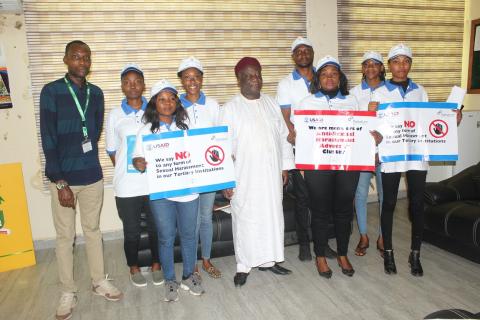 A Non-Governmental Organisation (NGO), Youth Alive Foundation (YAF), has brought its anti-sexual harassment crusade to the headquarters of the National Open University of Nigeria (NOUN) with the aim of further spreading awareness on the menace.
YAF said the focal point of its visit to the university was to bring to fore the incessant and never-ending issue of on-campus sexual harassment of female students and for the university to establish an independent sexual harassment committee.
They were welcomed and received by the Deputy Vice-Chancellor, Administration, Prof. Isaac Butswat on behalf of the Vice-Chancellor, Prof. Olufemi. 
Speaking during the visit, the spokesperson of the visiting group, Mr. David Inuenwi, explained the foundation's Anti-Sexual Harassment Advocacy Cluster as a consortium of different civil society organisations with the singular aim of addressing the prevalence of sexual harassment in tertiary institutions across Nigeria.
He stated that while tertiary institutions were established to aid desirable learning and working environments for both students and lecturers without the fear of intimidation, the reality on ground paints a more grim picture.
This, Inuenwi added, was disturbing that it happens in environments that are supposed to be moulding and filtering grounds for building virile leaders and intellectuals who will one day lead the affairs of the country.
While going down memory lane, he said a 2018 survey by the World Bank Group's Women Business and Law revealed that 70 percent of female graduates from Nigerian tertiary institutions were victims of sexual harassment in school with the main perpetrators being classmates and lecturers.
Consequently, the foundation implored NOUN to take the cause seriously and, if possible, should create the anti sexual harassment committee to work hand-in-hand with them to create a more safe and conducive university experience for female students.
Responding, Prof. Butswat commended the foundation for working tirelessly to stop the menace and expressed his happiness that it was young people taking the lead to put an end to a sad situation that has unfortunately become normalised in a lot of Nigerian tertiary institutions .
He assured them that the university would definitely start the process of creating an anti-sexual harassment committee, saying that NOUN was always ready to put in the work and establish partnerships with any organization that brought about a smoother and more sane experience for its students.
The DVC added that cases of sexual harassment in the university were none or next to zero as the university was mostly an online institution and the school has tried hard in restricting lecturer/student interactions to the bare minimum unless where it is really necessary.
Butswat also informed the visitors that the university's doors were always open to the foundation and that the school has pledged its utmost support so as to put an end to the plague.
Log in to post comments
69 views