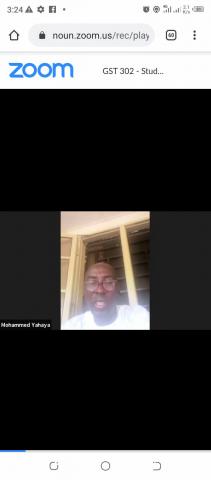 Students across the North-east study centres of the National Open University of Nigeria (NOUN) have been sensitised and guided through the processes of Business Creation and Growth (GST302) course.
The two Coordinators of the North-east Incubation Centre 1, Maiduguri and North-east Incubation Centre, Bogoro had, at different schedules within the week, engaged students and explained the imperative of the course via zoom.
The Coordinator for the Incubation Centre 1, Maiduguri, Dr. Mohammed Yahaya, in his address, called on the students to take GST 302 with keen interest and all seriousness, saying that only then, they can get good grades without necessarily being in Business Management or Accountancy.
Yahaya added that there is nothing difficult about GST 302 when one understands the requirements and the procedures of taking the course.
The coordinator, who is also the Director, Maiduguri Study Centre, advised students to be creative and innovative in their business ideas, urging them to take the advantage of the forum and ask relevant questions.
He took time off to guide the students on how to come up with creative and innovative enterprise ideas, writing business ideas, uploading and presentation of the proposals, among others
At the Incubation Centre 2, Bogoro, the coordinator, Prof. Madugu Yalams, took the students through the processes involved in GST 302 learning and encouraged them to conceive creative and innovative business ideas. 
At the end of the session, students took turns and asked questions while the coordinator satisfactorily provided answers to them.
Director, Gombe Study Centre, Dr. Adamu Bappah had participated in the sensitisation exercise alongside the students and staff, with a bid to increase their knowledge about the course. 
Bappah, in his vote of thanks, appreciated the coordinator for an excellent organisation of the exercise and suggested that the exercise should encourage not only students, but the entire staff of the centre to participate and improve themselves.
Log in to post comments
121 views