By Sunday Adama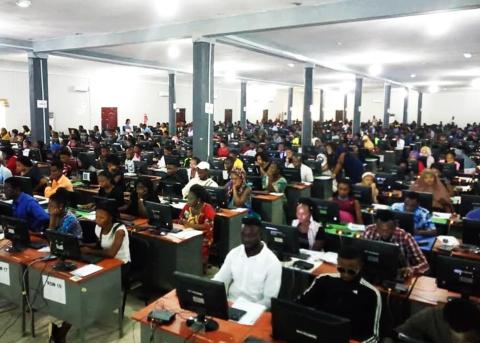 "With NOUN, nobody has excuse not to be educated in Nigeria'' - Silas T. Usman
When the National Open University of Nigeria (NOUN) was established little did Nigerians know that it is going to be a blessing to them. At its inception, many doubted the institution, due to its peculiar mode of operation: the Open and Distance Learning (ODL) institution is a place where teaching and learning is student-centred and not the other way round.
Today, without an iota  of doubt, NOUN is a blessing to Nigerians, as  it is gradually fulfilling the United Nations' Sustainable Development Goals Four (4) which states categorically thus: "Ensure inclusive and equitable quality education and promote lifelong learning opportunities for all".
 Even though other educational institutions in Nigeria are involved in  this all-important task of educating Nigerians towards the attainment of this laudable goal, NOUN's efforts is comparatively more glaring. It is as a result of this that the former Minister of State for Education, Chukwuemeka Nwajiuba, in 2019, while declaring open the first International Conference of Faculty of Education of the university, lauded NOUN for its mission of taking education to the doorstep of Nigerians, as well as its efforts towards the actualisation of these goals before 2030.
 A careful analysis of  NOUN's vision, mission and objectives clearly show that the university is tailored towards mass education. NOUN's mission states thus: "To provide functional, cost-effective, flexible learning which adds life-long value to quality education for all who seek knowledge."
Also, NOUN's objectives leaves no one in doubt as far as mass education is concerned. NOUN's objectives are: "to ensure equity and quality of opportunity in education generally but specifically in university education; provide a wider access to education generally but specifically university education in Nigeria; enhance education for all and life-long learning; provide the entrenchment of global learning culture; provide instructional resources via an intensive use of information and communication technology; provide flexible, but qualitative education; and reduce the costs, inconveniences and hassles of easy access to education and its delivery".
 To achieve these  objectives, NOUN has over 100 Study Centres spread across the country,  and more are in the offing.
The overriding mandate of NOUN is to provide quality education for all knowledge seekers in Nigeria. To ensure  this is done, NOUN has put in place all the necessary things that will bring about the realisation of the mandate.
 From available evidence, NOUN, since 2002 has been able to turn out over 2,000, Nigerians across the country. For instance, in 2018 during the 7th convocation ceremony, 14, 768 graduated from NOUN, including former President Olusegun Obasanjo who bagged his PhD at the convocation where  the former VC of  NOUN, Prof. Abdalla Uba Adamu, described it as "the most exciting and historic in the history of the university". In 2019, during  the 8th Convocation, NOUN graduated 20,799 while during the combined 9th and 10th convocation, over 32, 000 graduated from NOUN. Besides, just recently,  during the 11th Convocation Ceremony, which took place on Saturday, 5th April, 2022, NOUN turned out 22, 250 graduates across the country. What a feat!
It is on this basis that Adamu said NOUN has become the "social equalizer and enabler of opportunities" in Nigeria.
But what has been the secrets behind this success story? In the first place, one of the factors  is the accreditation of all its courses by  the National Universities Commission (NUC). According to the NUC, before a university is allowed to offer a course in Nigerian universities, it must pass the  litmus test of the regulating body and receive resource verification approval. This, of course, builds people's confidence in NOUN.
Another major factor is the signing of NOUN's Amended Acts into law by  President Muhammudu Buhari, which sees NOUN graduates going to the Nigerian Law School and the National Youth Service Corps (NYSC). In fact, this move has made NOUN to stand tall like mount Everest where every Nigerian sees it from everywhere.
Another factor  is the fact that strike is alien to NOUN. Reason? NOUN is an Open and Distance Learning  (ODL) institution. As such,  no ASUU, no NASU, no SSANU and no internal strikes. In NOUN, staff work 24/7 with a view to fulfilling its mandates.
Are you still NOUNphobic? Lest you forget, be reminded that former president of Nigeria, His Excellency, Chief Dr. Olusengu Obasanjo obtained his First, Master and Doctorate Degrees from NOUN.   In addition, on 4th June, 2017,  a NOUN product, Warrant Officer Enem Aniemeka, who bagged his Msc in Information Technology from NOUN, emerged as the best graduating PhD student in Babcock University, Ileshan Remo, Ogun State, with CGPA of 4.65.
Therefore, NOUNmaniacs who have seen the 'light' should not be silent; keep spreading the 'gospel' of NOUN's exploits. As the NOUN VC, Prof. Olufemi Peters, implored the students during the recent matriculation, all hands must be on deck to "extend the mantra of NOUN, which is, quality education delivered with equality and flexible access, to learn at your pace at any place"
From the foregoing, it is clear that NOUN is an agent of mass education. As such, NOUN needs your assistance to serve you better. Since no one is perfect, NOUN needs your constructive criticisms. NOUN needs your words of advice and encouragement and, above all, NOUN needs your prayers for strength and wisdom for more exploits and to triumph over enemies of progress.
Sunday Adama is a staff of the Directorate of Media and Publicity, National Open University of Nigeria (NOUN).
E-mail:Sadama@gmail.com
Log in to post comments
193 views