By Debbie Nduba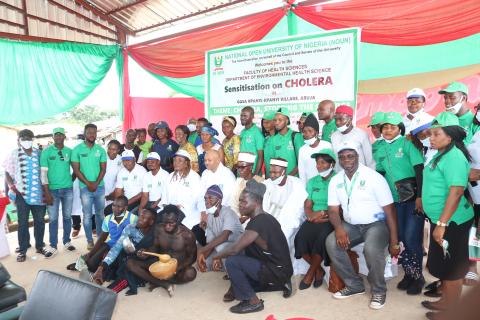 The National Open University of Nigeria (NOUN) a single mode Open and Distance Learning (ODL) institution established with the core mandate of providing functional, cost-effective and flexible learning which adds life-long value to quality education for all who seek knowledge in Nigeria and beyond.
 On Wednesday, 15th September, 2021 NOUN took a sensitisation campaign to Gosa Kpanyi-Kpanyi community, a suburb of the Federal Capital Territory (FCT), Abuja, in order to sensitise the people on the scourge, management and prevention of cholera. 
This action was not only timely but also a very commendable exercise. It showed that NOUN is not only providing affordable, flexible and accessible education to Nigerians, but is also interested in the overall well-being of the people health wise.
The cholera scourge in Nigeria is no longer news. What health stakeholders and indeed Nigerians are interested in is how it should be nipped in the bud. According to experts, cholera is an acute diarrhoeal infection caused by ingestion of infected food or water contaminated with the bacterium, vibrio Cholera, Choleragenic Cholera 01 and 0139 which are the only causative agents of the disease. The most epidemiologic features of the disease are its tendency to appear in explosive outbreaks and its predisposition to causing pandemics and may progressively affect many countries and spread into continents.
Since the first cholera outbreak in Nigeria in 1972, the country has not remained the same as there have been intermittent outbreaks. A recent report by Nigeria Centre for Disease Control (NCDC) shows that as at 12th September, 2021, a total of 72,910 suspected cases of cholera were recorded in 27 states and the FCT. And since January, 2021, 2,404 deaths have been recorded so far.
To this end, experts have attributed cholera outbreaks to wrong disposal of refuse and practices such as open defecation, which they say, endangers the water used for drinking and personal use.
This highlights the need for massive and aggressive enlightenment campaign across the country to educate citizens on proper hygiene practices. As a result, all hands must be on deck to nip this deadly disease in the bud.
The Federal Government has been making relentless efforts to fight the disease Recently; Nigeria secured doses of cholera vaccines to be distributed to worst hit states. Besides, experts have also advised that concerted efforts must be made to give greater percentage of Nigerians access to clean water and eradicate open defecation, among other unhealthy practices.
At this point, it is imperative to draw the attention of every well-meaning Nigerian to the issue of health. In fact, health issues should be taken as a shared responsibility by all.NOUN understands this fact to the letter and that is why NOUN, through its Department of Environmental Health Science, in collaboration with the Federal Capital Territory Abuja (FCTA) took the sensitisation campaign to Gosa Kpanyi-Kpanyi with theme: 'Cholera: Stopping the Scourge''.
While speaking during the sensitisation campaign on the rising cases of cholera and its threat to lives, the Vice-Chancellor, NOUN, Prof. Olufemi Peters who was represented by the Deputy Vice-Chancellor (DVC) Academics, Prof. Uduma Orji Uduma, said, "We know actually that cholera is a scourge... so today, as the Department of Environmental Health Science has come to key into this idea of stopping cholera, one thing is key: the scourge can only be stopped by clean water and safe sanitation''.
Corroborating Prof. Peters' statement, the acting Head of Department of Environmental Health Science, Dr. Saliu Oluremi, said that the main thrust of the outreach is to create awareness of the disease among members of the community, thereby providing them with information that they require to keep themselves from getting infected and save lives.
NOUN's choice of Gosa Kpanyi-Kpanyi, a community of about 6,000 dwellers, was timely because of its suspected high incidences of cholera as indicated by the District Head, Mr. Eshurik Nana.
Impressed by NOUN's timely intervention, Nana implored the Federal Government to come to the aid of the Community through NOUN, by providing necessary amenities - healthcare services, potable water, public toilets, and electricity, among others, to keep them from getting infected.
Also impressed by NOUN sensitisation initiative, the Minister of State for Environment, Barr. Sharon Ikeazor commended NOUN for its laudable initiative of the intervention programme for the Kpanyi-Kpanyi community.
Hon. Ikeazor said, "Cholera outbreak has been more of reactive approach instead of proactive and I must commend NOUN for leaving its four walls of the university to take this up as a challenge to assist the government and its citizenry in risk communication and community engagement on cholera".
Though Gosa Kpanyi-Kpanyi is not NOUN's immediate host community, one can conveniently and logically say that by extension, it is the institution's host community. Gosa Kpanyi-Kpanyi is in Abuja and Abuja is the capital of Nigeria where NOUN operates.
Without any doubt, NOUN's sensitisation campaign to Gosa Kpanyi-Kpanyi has created a good image for NOUN as it is evidently shown. Also, the campaign has created an indelible mark in the annals of Gosa Kpanyi-Kpanyi community.
During the campaign, the excited community members entertained NOUN with cultural dance expressing gratitude to NOUN and its staff for identifying with them. 
The Faculty of Health Sciences, Faculty of Environmental Science on behalf of NOUN management, presented hand sanitizers, ORT sachets, etc. to the community.
This sensitisation programme on in Gosa Kpanyi-Kpanyi is very impactful to the community and a great support in preventing, curtailing incidences of cholera outbreak and communicable disease in FCT.
*Debbie Nduba is a staff of the Directorate of Median and Publicity, National Open University of Nigeria (NOUN)
Log in to post comments
108 views