By Sunday Adama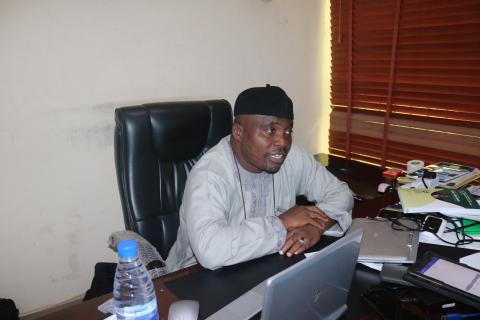 The Dean, School of Postgraduate Studies (SPS), National Open University of Nigeria (NOUN), Prof. Samaila Mande, has said there is no more discrimination against the products of the school as the postgraduate programmes have been recognised and accepted globally.
Prof. Mande disclosed this while fielding questions from NOUN News correspondent in his office at the university headquarters, Jabi, Abuja.
While explaining the secrets behind the global recognition and acceptance of the school, Mande gave kudos to his predecessor and pioneer dean, late Prof. Israel Adu for laying the solid foundation as well as his useful advices.
"The late Prof. Adu handed over the mantle of leadership of PG school to me as an acting dean because then I was an associate professor when the then VC Prof. Abdalla Uba Adamu appointed me. Prof. Adu supported and advised me and I started the processes with the members of the board at that time.
"And we did what we did by ensuring that acceptability and recognition of PG School should come to be. It wasn't easy because of the wrong perceptions and views that people held about the National Open University of Nigeria (NOUN). What we did was to ensure that we have a change of perceptions and that is what we did at that time," Mande said.
Speaking on the concrete steps taken towards global recognition and acceptability of PG School, the dean said what makes a university a university is the approval from relevant authority to commence the programmes as well as the legitimacy of the programmes.
He said all PG programmes in NOUN are approved by the National Universities Commission (NUC) and they are legitimate.
"I need to let you understand that if there is anything that has to do with acceptance of our programmes, no university in Nigeria can compare with NOUN in terms of acceptance.
"I need to make it categorically clear to you that even facilitators of our programmes are only those with PhDs. If you don't have your PhD, you don't have anything to do with us at the National Open University of Nigeria (NOUN). So, we have it as well as supervising of our students' projects," he said.
The action taken, Mande said, has generated a lot of credibility for the University adding that "today we have most our students who are doing postgraduate courses in all the universities in Nigeria and some abroad."
According to the dean, another practical step taken towards repositioning, rebranding and projecting the NOUN PG School for global recognition and acceptability is through the provision of office accommodation for the committee of deans of PG Schools in Nigeria with the Secretariat in NOUN headquarters, Abuja.
While hailing the leadership style demonstrated by the VC, Prof. Olufemi Peters, Mande said "I need to make it clear to you, any day any time for whatever I am asked to do, the way I did for Abdalla Uba Adamu's era is the same way I will do for Prof. Olufemi Peters."
He added that the idea behind former VC, Prof. Adamu's reference to him and others as 'dream team' "is high level of believability in me and the other members of the 'dream team.'"
Log in to post comments
218 views