By Mba Ude Ude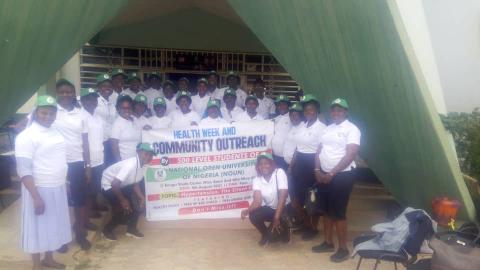 Students of 500-level, Faculty of Health Sciences of National Open University of Nigeria (NOUN), have embarked on a one-day sensitization programme to mark their Health Week and Community Outreach at Enugu Study Centre, Enugu State.
The programme, with the topic "Hypertension: The Silent Killer," came on board at the expiration of the Nursing students' six weeks' practicum participation at Uwani Health Centre and Poly Clinic, Enugu South Local Government Area as well as Enugu North Local Government Area, respectively.
A resource person, Enebe Chinwe, explained that hypertension occurs when the force of one's blood pushing against the wall of one's blood vessels is consistently too high, which can cause the blood vessels to either rupture or leak.
The effect of that, Chinwe added, is when it damages the blood vessels over time the damage can prevent the kidney from functioning properly, which can lead to kidney disease or kidney failure. 
While acknowledging that most people with high pressure will not experience any symptoms, which is why people often call hypertension the silent killer, Chinwe also mentioned that the causes are among others: being overweight or obese, mental stress, smoking, diabetes and high salt intake. 
She stated that managing hypertension involves eating a healthier diet with less salt, exercising regularly, quitting of smoking, home blood monitors to mention but a few.
The staff of the centre and the environs participated in free BP, RBS and weight checks among others. 
Enugu Study Centre director, Prof. Alexander Uche Onyia, applauded the Nursing students for their kind gesture extended to the staff, which recorded an impressive turnout.
Log in to post comments
48 views