By Joy Akiga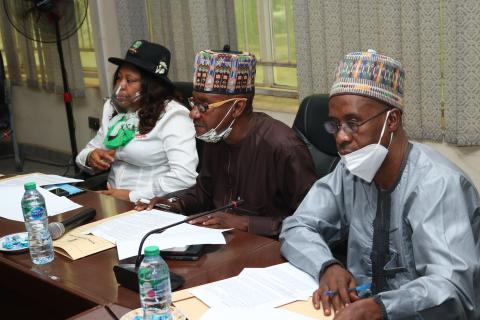 The Vice-Chancellor, National Open University of Nigeria, Prof. Olufemi Peters, has charged the Industrial Training Fund (ITF) and coordinators of Students' Industrial Work Experience Scheme (SIWES) to do more on their online delivery, especially as it continues to get traction due to the present pandemic.

He stated this when the coordinators paid him a courtesy visit in his office, led by the newly appointed SIWES director, Prof. Joy Eyisi, ahead of their second quarterly meeting, held at the university headquarters, Jabi-Abuja.

While welcoming the coordinators to his office, the VC said he was familiar with the activities of the scheme and emphasized on the need for SIWES to utilize the e-Learning platform as an important and beneficial tool for enhancing students' knowledge.

The Vice-Chancellor, who told the visitors of the university's expertise in the area, further assured them of his cooperation for the purpose of improving the scheme for the students.

Peters commended the director for her commitment and pointed out that NOUN was ready and willing to assist in all ways of learning.

He disclosed that the university would be ready to key-in to any training programme that would be beneficial to the staff and wished them a very successful deliberation. 

ITF's Abuja Area Office Manager, Mr. Farooq D. A. Wase, who led the SIWES' delegation, reiterated the importance of the training as a critical tool in transferring knowledge to the students and stressed the need for the quarterly meeting with coordinators as key to the smooth running of the programme.

Wase also thanked the Vice-Chancellor for hosting the meeting and extended the greetings of the ITF Director-General/CEO, Sir Joseph N. Ari to the Vice-Chancellor.

At the second quarterly meeting, Wase reminded the gathering that SIWES carries a critical credit unit that is important to the students, and charged the coordinators on the need for supervision.

He stated that students are not getting it right with the scheme, which calls for stricter supervision from the coordinators.

The manager then underscored the critical aspect of online monitoring and asked them to improve on it as a way of making sure that students have justifiably earned the credit unit.

The meeting also acknowledged the setback of the scheme last year, which was attributed to the Covid-19 pandemic, as well as the semester lapses due to the Academic Staff Union of Universities (ASUU) strike. 

NOUN SIWES director, Prof Joy Eyisi, had earlier welcomed the participants to the headquarters of the university and informed them of the reforms the directorate had engaged in since her assumption of office.

The quarterly meeting of SIWES zonal coordinators is, among other things, expected to review their activities and address challenges as well as come up with useful resolutions to move the scheme forward.

The meeting was attended by the participating institutions that include Nile University of Nigeria, University of Abuja, College of Education, Zuba and Veritas University, Abuja.
Log in to post comments
224 views