By Joel Nkanta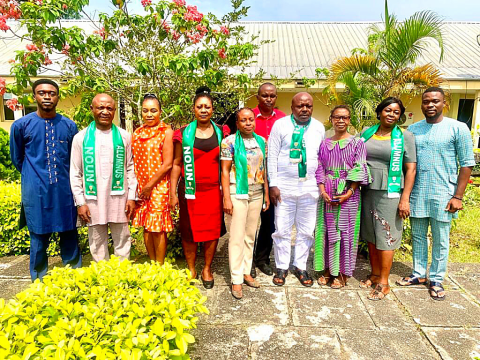 The executive body of the National Open University of Nigeria Alumni Association (NOUNAA), Cross River State Chapter, has paid a courtesy visit to the Calabar Study Centre, Cross River State.
 The centre director, Prof. Onyeka Iwuchukwu, who expressed her delight at the January 18, 2022 visit, sought the assistance of the body in uplifting the outlook and image of the centre.

Iwuchukwu listed possible areas the alumni could assist to include access road, procurement of a power transformer, expansion of the existing centre facility and advocacy.

In response, the president of the association, Mr. Donald Isaac Udoh, pledged the support of his association for the study centre and promised that they will be officially part of the advocacy team of the study centre.

Udoh commended the Iwuchukwu for the transformation that has taken place at the centre within a very short time.

He promised that the association would be available any time it is called upon; adding that the Cross River State Chapter of the association was happy to identify with the progressive strides of the centre director.

Other members of the alumni association present were Mr. Kokoete Udo Obot, secretary, Mrs. Helen Umoh Edem, welfare officer, and Mr. Ibumba Cyril Ekpo.
Log in to post comments
165 views