By Emem Oshionebo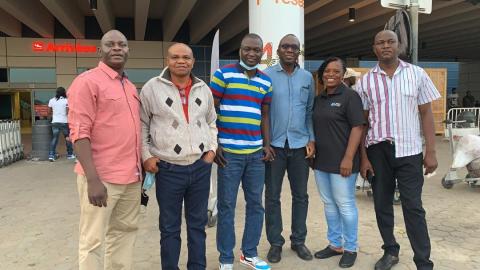 About six staff of the National Open University of Nigeria(NOUN) will be participating at the Digital Science and Technology Network (DSTN) symposium in Senegal.
The symposium, which is slated to hold from 6th-12th of December, 2021, is aimed  at bringing together the participating African Centre of Excellence (ACEs), their partners, socio-economic actors and international collaborators, to share experiences as well as train potential entrepreneurs on how to launch their start-ups in Digital Science and Technology.
The centre director, African Centre of Excellence for Technology Enhanced Learning (ACETEL), Prof. Grace Jokthan, stated this during a chat with NOUN News in her office at the headquarters of the university in Jabi, Abuja.
''The training, which is sponsored by DSTN, will also create a long lasting and ethical collaboration between our network of African and international academia with public and private stakeholders,'' she added".
According to Jokthan, "learning activities are necessary for the capacity development of staff and students."
The centre director also disclosed that the Digital Science and Technology Network (DSTN)
has organised a HACKATHON exhibition, ahead of its symposium, with the theme, "DIGIT4SOCIETY (Digital technology for society),"
which comes up on the 4th and 5th December, 2021, in Saint  Louis, Senegal, for students of five African Centres of Excellence (ACE's).
She further stated that six students from the centre were selected by DSTN upon application for the Hackathon exhibition.
Jokthan encouraged students representing NOUN/ACETEL to put in their best as trophies would be awarded to the best participants.
Log in to post comments
727 views