By Debbie Nduba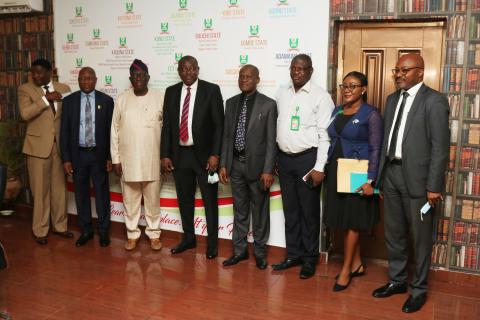 The Nigerian Security Printing and Minting (NSPM) Plc. is poised to partner with the National Open University (NOUN) towards printing digitalized, secured certificates and protecting the NOUN brand, it's Managing Director/CEO, Abbas Umar Masanawa, has said.
Masanawa said the move, which aims to ensure the authenticity and genuineness of certificate devoid of forgery, is part of its efforts in providing security solution in currency and security document, which protects value and brand.
He disclosed this when he led a 7-man delegation on a courtesy visit to the NOUN Vice-Chancellor at the university headquarters, on Monday, June 28th 2021, in Abuja.
"We are here to congratulate you as NOUN VC and to solicit for your partnership as well as re-showcase ourselves and our services. We have been here; we have introduced ourselves, but we have not started any significant meaningful relationship with NOUN. 
"Our proposal thrust is to protect your brand with our unique, personalized digital certificates for NOUN graduates that are difficult to replicate or tampered with, provide authentication solution that can validate these certificates remotely on the internet 24/7 for a fee to both parties, avail NOUN our electronic document management system that will improve work-flow and better manage its growing database using our block chain technology.
"I believe this is the time to consummate that aspect of relationship. We have all it takes; we have capacity to print all your security document not only certificates. I believe the time is now," the MD told the VC.
He added that the essence of their visit was premised on the need to add value, stressing that "we are not just saying give us job, we are saying give us business because we know definitely we will do much more, better and it's going to be a value added.''
While speaking on the digitized and secured certificates, Masanawa explained that NSPM can well produce such quality certificate for the university.
"This class of certificate will ease the process of authenticating these certificates and reduce fraud; we produce QR code-based certificates. This offers an extra level of security to these certificates."
On his part, the Assistant Manager, Marketing and Functional Design, Pius Aliu in a brief presentation with the theme: "Our Goal – Partnership," stated that "with over 320,000 active student population, about 200,000 graduates to date and 103 study centres in sic geo-political zones, the success story cannot be better told.
"With these landmark achievements lies the need to protect the brand of NOUN. NSPM seeks to partner with this great institution with the aim of, and ultimately, protecting its brand, generate revenue in passive income source and improving its work-flow."
Aliu also stated that NSPM offers a seamless and convenient way of digitizing paper documents and converting them to electronic documents, capturing important information and saving the document in a central repository for easy retrieval later.
Responding, the Vice-Chancellor, Prof. Olufemi Peters, thanked the delegation for deeming it fit to felicitate with him over his emergence as the Vice-Chancellor.
Peters said "we welcome the idea of the partnership but we will look at that seriously when the management meets."
He further urged the MD to write a formal proposal stating all the areas they deemed worth partnering, adding that "it's a Government versus Government kind of engagement."
Log in to post comments
265 views