By Joel Nkanta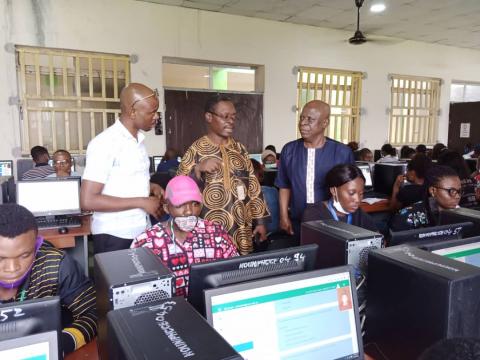 The director, Learners Support Services (LSS), National Open University of Nigeria (NOUN), Prof. Gregory Okagbare, on Monday, visited Port Harcourt Study Centre of the university in Rivers State, to monitor the ongoing e-examination.

Okagbare, who arrived the centre within the period of the first session of examination for the day, was heartily received by the centre director, Prof. Eserinune McCarty Mojaye and members of staff of the centre.

While commenting on the conduct of the examinations, Okagbare observed that the arrangement for the exams were very well organised.
"I can see that there is a lot of improvement, students are not seen loitering around the gate as before. Every student is given a comfortable place to sit down before they are transferred to the various halls where they would take the exams," he said; adding that the students he had interacted with were very happy and relaxed.

He, however, decried the poor ventilation of the exams halls. "I have observed that the air conditioners meant for the main auditorium have not been installed. The rooms are very hot, especially the areas that are exposed to direct rays of the sun.
"They are very hot. There is the need for window blinds to shade off the rays of the sun thereby ensuring that the test environments are cooler. This will help both the students and the computers. That is an area I think the university needs to look at."

Okagbare also recommended that the Directorate of Physical Development, Works and Services (DPDW&S) should have a representative stationed at Port Harcourt Study Centre considering the size of the centre and the nature of infrastructure available at the centre.
He said that placing a representative of the DPDW&S would help to ensure that most of the facilities of the university at the centre are properly maintained.

The LSS boss observed that the just concluded Pen-on-Paper (PoP) exams were a great success. "We witnessed less incidences of unruly behaviour from students, we also witnessed less incidences of incorrect exams questions. Exams also started promptly.
"Generally, the standard of the conduct of PoP exams in the National Open University of Nigeria has greatly improved."
The director added that his interaction with students has confirmed that. "There were times when students were complaining that exams were started too early, making it difficult to arrive and get checked in without running late. All that has been taken care of; so generally there is a lot of improvement."
Log in to post comments
124 views