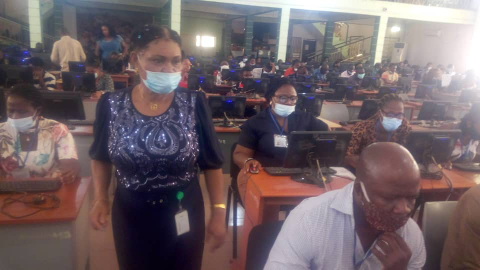 The former head of department, Mass Communication, Associate Prof. Chidinma H. Onwubere, has commended the smooth administration and conduct of the on going 2021_2 e-exams at Enugu Study Centre, National Open University of Nigeria (NOUN), Enugu State.

Onwubere described the checking in procedures as perfect. She said that the commitment of the staff during the process was excellent, as all staff showed proficiency in computer operation.

She observed that students were clustering because a large number of computer systems were malfunctioning, and needed urgent repairs.

The communication expert, however, pointed out that whereas exam questions were standard, the screen background of the  questions were not sharp, students had to strain their eyes before they could read it.

The Associate Professor of Broadcasting praised the centre director, Prof. Alexander Uche Onyia, for breeding such high profile staff.

At the Nigerian Correctional Service Centre, Enugu, Onwubere also monitored the e-exam and described the exercise as perfect and well organised.

She was highly impressed by students' conduct of observing  the rules and regulations  guiding the e-exam, adding that the environment and atmosphere were calm and adequately ventilated.

Onwubere further observed that the fans were blowing hot, hence the need for installation of air conditioners in the exams halls.

She reeled out some challenges of the centre to include lack of convenience for staff, lack of internet  connectivity, inadequate course materials for students as well as the issue of outstanding 200 level students who had yet to be matriculated.

Onwubere prayed the management of the university for urgent intervention to change the fortune of the centre.
Log in to post comments
99 views