By Mba Ude Ude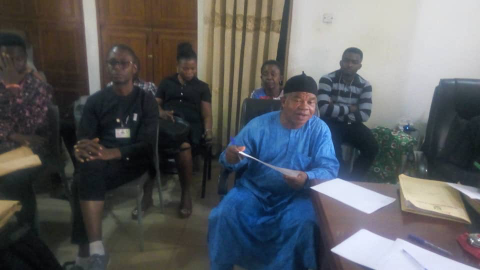 The 2022_1 conference marking was a task force job, time limit and national sacrifice assignment, the Coordinator, South-east Marking Zone and Dean, Faculty of Education (FOE), Prof. Uchenna Sydney Ajunwa Osuji, has said.

He stated this during the 2022_1 conference marking exercise, where he briefed the examiners and subject officers at Enugu Study Centre, Enugu State.

Osuji, while appreciating the examiners for honouring the national assignment, also appealed to the markers to painstakingly check and confirm the accuracy of the scripts given to them to avoid missing of scripts, adding that it is better to have more scripts than less during submission.

"If you are privileged to get scripts and there are anything whatsoever that would distract you from giving quality marking as well as meeting the deadline of submission, you are kindly advised to honourably decline," he said.

According to him, the examiners needed to collect the marking guide from their respective faculties to ensure thorough and objective marking, even as peoples' lives depend to a large extent on the outcome of the results.

The dean explained the importance of point-by-point awarding of scores as against bulk scores, stressing that the university management maintained the status-quo of only Ph.D degree holders were qualified to participate in the conference marking.

Osuji said in case of any challenge his attention should be drawn for timely resolution.

Earlier, Osuji had briefed the subject officers drawn from the eight faculties of the university and appealed to them to be meticulous in handling scripts as destinies are tied to it.

He cautioned them on the dangers of lackadaisical attitude to work.

The Professor of Measurement and Evaluation said "the examiners are professional colleagues in the academia and not beggars, there is need to be polite and respectful in handling them. It is because they are here that is why we are here."

Osuji encouraged them to be cooperative and see themselves as one family for the overall benefit of the university.

The centre director, Prof. Alexander Uche Onyia, advised the markers to ensure  correct and accurate provision of account details for prompt payment.

DEA representatives at the exercise are Adebayo Kayode and Mrs. Ndubuisi Juilana for logistics, while the representatives of DMIS were Tijani Suleiman and Ande Andewara for technical supports.
Log in to post comments
148 views