By Ibrahim Kabiru Sule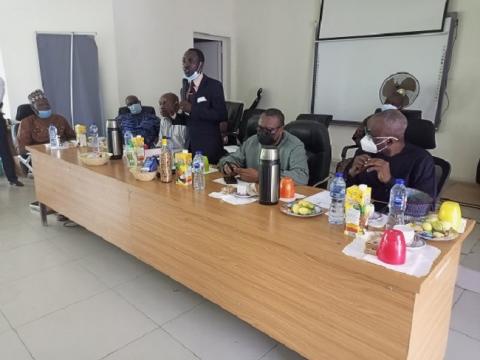 The maiden Mphil/PhD seminar presentation of the Department of Peace Studies and Conflict Resolution (PCR), Faculty of Social Sciences has taken place at the National Open University headquarters in Abuja, becoming the second department in the faculty to commence PhD programme.
The seminar, which took place on Monday, September 20, 2021, witnessed a total of 28 students of both programmes in attendance and who each took turn to present his/her research topic/problem before a panel of professors.
The Dean, School of Postgraduate Studies (SPS), Prof. Chiedu Mafiana, congratulated the candidates for setting the pace in the department and expressed hope that as the "first set, you will not overstay your welcome."
He challenged them to work hard and finish in the stipulated time, and enjoined them to reach out to their colleagues and talk to each other, which is a sure way of easing their study.
On his part, the immediate-past Director of the Centre for Excellence in Migration and Global Studies (CEMGS), Prof. Hakeem Ibikunle Tijani, who extolled the virtues of having Mafiana in the university, emphasised on the importance of mentoring.
Tijani urged the candidates to consult each other and work as a team, as no one knows it all.
He told them pioneering in everything has never been easy, as they have to make use of the library.
On his part, the dean of the faculty, Dr. Moses Etila Shaiabu, lauded the number of the candidates, saying that even the old generation universities could only wish to have such numbers for the programmes.
The dean, who charged them to be hardworking and dedicative to their studies, also hoped that as the pioneers, they would all finish within 36 months or even less for the extra-ordinary ones.
He said the need to share ideas amongst themselves is paramount and reiterated the importance of visiting library.
The Head of the Department, Dr. Iroye Samuel Opayemi thanked the SPS dean, whom, he said, attended the event as his first public outing since his appointment by the Vice-Chancellor, Prof. Olufemi Peters.
Opayemi also enjoined them to work hard and be free to consult their supervisors for any clarity, hoping them "nobody will jump out along the way."  
Log in to post comments
125 views