By Favour Egwu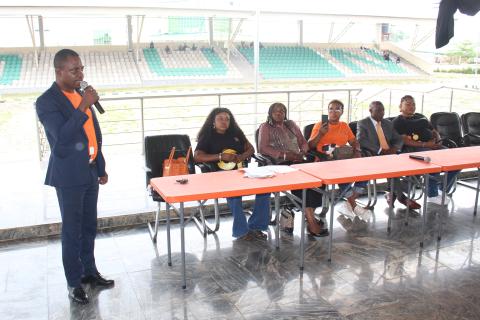 Representatives of the Leadway Assurance Company Limited have interacted with the staff of the National Open University of Nigeria (NOUN) on the Contributory Pension Scheme and its ancillary aspects.
The team, led by one Mr. Amos, visited the headquarters of the university on Friday, September 8, 2023 and urged the staffers to take annuity at their retirement as it guarantees pensions for life.
Speaking on the company's annuity packages, Amos said the package can be bought with an external source of income or proceeds from one's Retirement Savings Account (RSA).
"Annuity purchased with an RSA must have a minimum of 10 years guarantee period. However, for premiums from other sources, the guarantee period may vary from 0 to 20 years," he said at the interactive session, also streamed live via zoom.
According to him, there are three annuity payment options to choose from,  saying that the Level Income Payment option pays the highest income and remains the same throughout one's lifetime regardless of inflation.
The second option, he said, is called the Increasing Income Payment option, which protects one from inflation by guaranteeing an annual increment of 5% or 7.5% of the annuity payment.
The third option, called the Spouse Option, provides payment of 25%, 50%, and 75% of one's annuity payment to his/her spouse for the rest of their lives after the expiration of the guaranteed period upon the death of the primary retiree (Annuitant).
The visiting team assured staff that with an annuity they can live on a completely tax-free salary for life after retirement, as the company currently pays about N20,000 retirees monthly.
While answering some questions from the staff, the Leadway Assurance representatives mentioned that annuities provide individuals with a way to potentially accumulate wealth, defer taxes, preserve their principal, and ensure a reliable income stream in retirement.
They noted that annuity transfers all the risk of the down market to them, meaning that annuity owners are protected from the market risk and longevity risk.
Amos thanked the management and staff of the university for the opportunity to speak to them and encouraged them to create a long-term income through annuities.
Log in to post comments
149 views