By Sunday Adama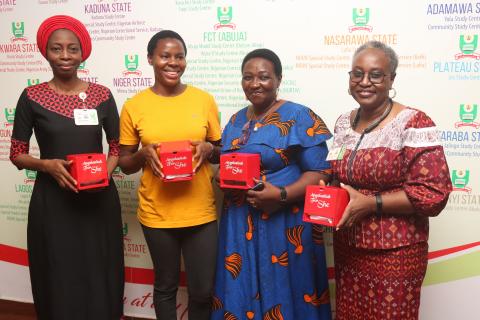 The Vice-Chancellor, National Open University of Nigeria (NOUN), Prof. Olufemi Peters, has commended an ex-intern of the Africa Centre of Excellence on Technology Enhanced Learning (ACETEL), Miss Anele Angela Chinecherem, for her innovative concept.
Peters made the commendation while playing host to the erstwhile intern at his office in Abuja, where she unveiled her own brand of office sanitary pad, tagged: "Angelaeitah for She."
Accompanied by the ACETEL director, Prof. Grace E. Jokhtan, Miss Chinecherem said her driving principle is that "wherever you are, make it better than you met it."
Angela, a 2019/2020 Corp member who served as an Administrative Officer at the Directorate of Human Resources (senior section) of the university, explained the rationale behind the idea, saying that she embarked on the project in case of emergency among ladies while in the office.
"When I came in, I saw the need to have this, because I met a lady in emergency, which she needed to have this but nowhere to go about it. I thought this might be a nice idea to help our ladies to be able to perform effectively without distress," she said.
Speaking on the concept, Angela said "we used a well-constructed plastic and then loaded it with already manufactured pads. When you want to use it, place it on the wall (ladies' convenient), load the box with the pads, pull it from the hole beneath and use it until it exhausted and then reload it for use."
Earlier in her speech, Prof. Jokhtan told the Vice-Chancellor that Angela has made impact while serving as a corper and as an intern, adding that 'Angelaeitah for She' is a legacy that the university needs to know about it, hence the unveiling of the concept.
The director, who commended Angela for her extraordinary performance while in NOUN, also wished her well in her future endeavour.
Log in to post comments
189 views