Murtala Usman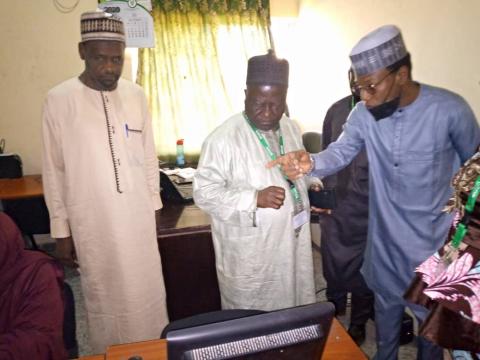 The Dean, Faculty of Agriculture, National Open University of Nigeria (NOUN), Prof. Issac Butswat, has visited the Bauchi and Gombe Study Centres to monitor the conduct of the ongoing 2021_1 e-examination.
In Bauchi, the dean was received by the centre director, Prof. Mohammed Bello Abdullahi and other senior staff who took him round to monitor the ongoing examination as well as toured some facilities at the centre.
Butswat expressed satisfaction with the smooth conduct of the exercise and commended the centre director on his commitment and determination in ensuring a hitch-free and seamless exercise 
"I was here before the starting of 11am paper and I watched all the steps taken to get the students in and I'm satisfied that the correct thing is being done," he said.
He applauded the students' behaviors for adhering to the rules and regulations guiding the conduct of the examination as well as those Covid-19 safety protocols, expressing happiness with the report that there has not been any case of examination malpractice since the commencement of the exercise.
Butswat, however, expressed displeasure over the incompatibility of the computer systems, as the passport photographs of some candidates do not reflect on the system due to incompatibility issue with the ThinClients Systems.
He urged the University Management to provide additional laptop and desktop computers or Mini PCs to make the process more visible.
"The only thing that I wasn't happy with is the fact that some computers do not reflect the passport photographs of the candidates. When I asked and inquired, they were not compatible.
"So what is compatible is that the centre expects more desktops and laptops as compared to ThinClients. So, more efforts should be geared towards getting more laptops and desktops than the ThinClients and that will solve the problem. Apart from that everything was getting on fine as far as e-examination is concerned at Bauchi Study Centre," he added.
While at the Gombe Study Centre, the dean, who was taken round by the centre director, Dr. Adamu Bappah, described the whole exercise as smooth and excellent devoid of any hitches.
Butswat also acknowledged the challenge of ThinClients Systems to display the passport photograph of the candidates just as he discovered at the Bauchi Study Centre.
He assured that the management of the university will look at the issue holistically towards addressing the problem.
Log in to post comments
77 views