By Inuwa Hamza Yunusa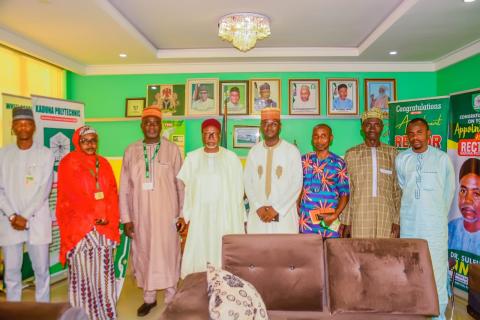 The Rector, Kaduna Polytechnic, Dr. Suleiman Umar, has said that his institution is ready to partner the Centre of Human Resource Development (CHRD) of the National Open University of Nigeria (NOUN) in the area of skills acquisition development. 
He made this known when playing host to the management of the centre, led by its director, Dr. Aminu Umar, who called on the institution in Kaduna.
He said the polytechnic, known for its leading role in championing the course of skills acquisition development, has 37 assessors and two verifiers all trained by the institution. 
The rector, however, lamented that the Kaduna Polytechnic has no external verifier. 
He called explained that there was the need for the two parties to sit down and understand the terms and conditions before the Memorandum of Understanding could be signed. 
While commending the university for its foresight, he promised to exploit the institution's available resources to the full extent.
Umar upheld that in the present economic context of the 21st Century, the issue of certificate has no weight compared to the skills for economic development. 
On the other hand, the rector disclosed that the polytechnic had made an effective use of Panteka Market Association for the training and development of skills. 
In the light of this, the her explained that there was need for the collaboration and development, even as he promised to reciprocate the visit. 
Earlier in his speech, the Director NOUN CHRD, Dr. Aminu Umar, congratulated his host for what he described as a well deserved appointment. 
Umar, who also extended the felicitation of the Vice-Chancellor, Prof. Olufemi Peters, added that like the polytechnic, NOUN has a robust representation, with mega study centre in the Kaduna City, a community study centre in Kagoro, a study centre for the inmate at Kaduna Medium and Custodial Centre, and a special study centre for the Nigerian Air Force situated at the NAF Base. 
He said CHRD is the only centre outside the university headquarters and is tasked with the responsibility of providing Corporate Social Responsibility to the people.
The centre, according to him, also aims at empowering and certificating people who ordinarily do not have certificates but have skills. 
He said CHRD has since partnered with the Kaduna State Government for artisans and skills development.
The director, therefore, appealed to partner the polytechnic to make use of its assessors and verifiers in order to improve the quality of the training and the economy. 
"This will no doubt serve as an avenue and a panacea to harness the national potentials," he said. 
He called for the signing of Memorandum of Understanding between the two  institutions, praying to see to fruition "these gigantic collaborative efforts." 
The meeting was also attended by some top officials of the polytechnic with direct bearing in dealing with skills training and development. 
The director was accompanied by some top management staff of the centre drawn from manpower unit, DPDW&S and a host of others. 
Log in to post comments
75 views