By Mba Ude Ude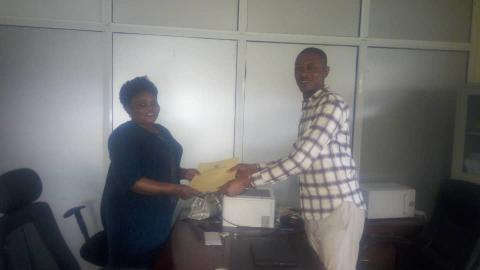 Outgoing coordinator of the Incubation Centre, South-east Zone, Dr. Nkata U. Kalu has handed over affairs of the centre to the incoming coordinator, Dr. Loveth Ekwueme, who was a fortnight ago appointed by the Vice-Chancellor, Prof. Olufemi Peters, to oversee activities of the centre.
The brief ceremony, which was preceded by a grand send-off party organised by the staff of the Incubation Centre, took place on Wednesday, 25th August, 2021 at the Incubation Centre, South-east Zone, located at Enugu Study Centre, Enugu State. 
While applauding the staff for their cooperation and support accorded to him as a coordinator, Kalu also said that life is associated with the beginning and ending, as he recounted the time he had taken over on 26th November, 2020 from his predecessor.
According to him, "we meet to part and part to meet. I have not known you until the day I assumed office as the coordinator, and, however, we are all human being and in case I have wronged anyone, we need to understand that to err is human and to forgive is divine, I am sorry and just jettisoned it." 
Kalu described his successor as capable, qualified and not afraid of tasks notwithstanding its magnitude. 
He said Ekwueme is the daughter of the soil and not a stranger to the terrain, having worked for many years at Enugu Study Centre before her short transfer to NOUN headquarters, Abuja. 
The departing coordinator appealed to staff to give her maximum support, while praying for God's wisdom, longevity and good health to take the zone to an enviable height. 
It would be recalled that the Vice-Chancellor, Prof. Olufemi Peters, in a memo dated 28th July, 2021, appointed Kalu as the director, Asaga Ohafia Community Study Centre, Abia State.
Responding, Ekwueme expressed her appreciation to God for meeting them in a good health condition and prayed to God to grant him wisdom and sound mind to pilot the affairs of his new office. 
She said her stint at the headquarters had afforded her opportunity to learn and acquire more knowledge due to greater responsibilities she was exposed to, adding that "we are ready to impact knowledge significantly to those who desire to learn as learning is a lifelong exercise." 
The new coordinator underscored the importance of hard work as well as team spirit, which, according to her, are the nuggets that will take the centre to greater heights for the overall benefit of the university.
While advocating the philosophy of transparent and openness, she advised the staff to always be truthful, hard work and dedication to duties.
"If I do anything wrong please call my attention to it as nobody is above mistake," she stated. 
Log in to post comments
56 views