By Emem Oshionebo and Favour Egwu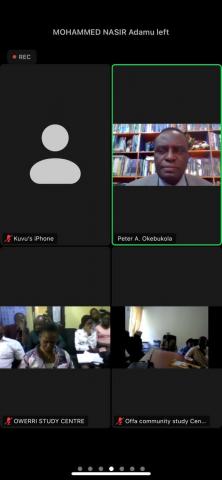 The chairman of governing council of the National Open University of Nigeria (NOUN), Prof. Peter Okebukola, says the institution is committed to enhance welfare of staff and robust academic programmes' development.

Prof. Okebukola stated this during a virtual meeting  with  staff members and management team of  the University.

While emphasising the importance of academic and staff welfare as major factor in advancing the cause of the institution,  Prof. Okebukola  proposed a quarterly general assembly which will hold every first Thursday of  each quarter of the year.

He said such gathering would provide massive opportunity to discuss and share ideas on the improvement of the academic quality of NOUN.

''This should stand as our first general assembly; the next meeting will be on the 2nd of December 2021,'' he said.

Speaking further, Professor Okebukola- a former Executive Secretary of the National Universities Commission (NUC) , expressed concerns over the accreditation results churned out by the Commission on  some of the programmes of the institution.

He said the feedback received from the NUC showed that most courses were given interim accreditation due to their inability to meet some stipulated requirements.

He added that lack of physical library, books, inadequate journals, lack of evidence of practicals being conducted for science students, course materials not being Open and Distant Learning (ODL) compliant, among others, were major factors that led to the poor accreditation result.

''NOUN has the combination of several students that conventional universities would not accept, so our teaching process must be excellent in other to produce the best students,'' he said.

The governing council chairman also informed  staff members  on the introduction of suggestion forms, which are to be filled to facilitate effective decision making, even as he urged NOUN to work quickly towards the cost implication of the issues raised.

On his part,  Vice Chancellor of NOUN, Prof. Femi Peters, appreciated the Chairman of council and members of staff for their support for the institution.

He, however, said the recent accreditation result of academic programmes in the University came to him as a shock.

Professor Peters said since the receipt of the result, his team is leaving no stone unturned to address all the issues noted in the feedback received from NUC.

''We would ensure that laboratories are created and residency programme would be intensified, '' the Vice Chancellor said.
Log in to post comments
688 views