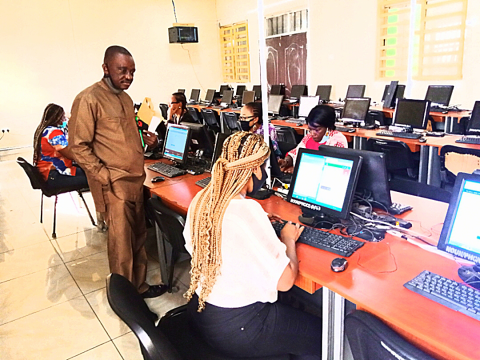 A professor at the Faculty of Education and former centre director, Asaba Study Centre, National Open University of Nigeria (NOUN), Augustine Ukwueze, has described the conduct of the ongoing 2021_2 e-Exams at Port Harcourt Study Centre, as satisfactory.

The don, who arrived the oil-rich city of Port Harcourt on Wednesday, to monitor the exams, said he was fully satisfied with the manner in which the e-Exams were administered.

"The seating arrangements are fantastic, especially as the centre is spacious. It allows enough room for the spacing of the candidates. The students are very orderly, and the invigilators are doing a good job," he said.

Ukwueze urged the management of Port Harcourt Study Centre, led by the centre director, Dr. Nnenna Chukwuma, to "keep the flag of good work flying."

He also counselled that the students should remain as orderly and well-behaved as he has found them throughout the remaining days of the exams, as well as in future exams.

Ukwueze left the centre on Thursday morning to monitor exams at the Special Study Centre in the Nigerian Maximum Security Correctional Centre, Port Harcourt, Rivers State.
Log in to post comments
116 views