By Loretta Edozie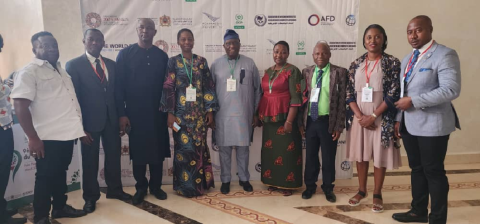 The Africa Centre of Excellence on Technology Enhanced Learning (ACETEL) leadership team, has attended the 9th ACE Impact regional workshop, held on May 29th – 30th, 2023 at Palm Plaza Hotel & Spa Marrakech, Morocco.
The team was led by the Vice Chancellor, National Open University of Nigeria (NOUN), Prof. Olufemi Peters, whose role in the ACE project in NOUN, is of great importance.
The workshop which was organized by the World Bank and the Association of African Universities (AAU), aimed at enhancing the capacity of universities to deliver high-quality training and applied research to address regional development challenges for Africa through The Africa Centre of Excellence (ACE) program which addresses Africa's higher-level skills development needs and innovative research requirements for the continent's priority development sectors in five broad areas which includes; Science, Technology, Engineering and Mathematics (STEM); Agriculture, Health; Environment; and Education leveraging on economies of scale in training of students, and the use of research and innovative facilities, promoting cross-border academic and industry partnerships within and outside Africa.
The events of the two-day workshop were in two categories, with the first being on project-wide implementation and technical support missions for the ACE projects.
Formal meetings of the Project Steering Committee (PSC), project-wide plenary sessions, and technical parallel sessions, addressing specific project activities were held during the workshop.
The key focus areas were on; continuing "the strong push towards project disbursements and fund utilization and providing implementation support, providing a peer learning platform for the ACEs to discuss methods of achieving the more difficult disbursement-linked indicators (DLIs) such as international accreditation, internships (for select sectors), and institutional impact, provide one-on-one support to centers following national supervision meetings for all fiduciary matters, including financial management, monitoring and evaluation, environmental and social safeguards, and procurement."
While the second category of events, titled; Joint ACE-Morocco collaboration, was held on Wednesday, May 31 to Friday June 2, 2023, with various issues discussed.
Various topics such as; fostering "cross-country partnerships and networks between centres and Moroccan higher education institutions and private sector stakeholders, especially on joint research, entrepreneurship, and innovation opportunities; and provide opportunities for deep dive training and capacity building on moving research from lab to market " because sustainability is high on the agenda for both the ACEs and Moroccan Higher Education Institutions." were discussed.
Participants at the second category of events were; the Moroccan Government Representative (Ministry of higher education, etc), Academic Representatives of existing ACE teams and Moroccan Universities, Tunisian Universities (both public and private), Private Sectors Representatives, Experts in commercialization of research, World Bank, Agence Française de Development (AFD), Association of African Universities (AAU), Institut de Recherche pour le Development (IRD) and other thematic/sector experts, were all in attendance.
The VC led ACETEL team who attended the workshop are; VC-NOUN, Prof. Olufemi Peters,      DVC-TIR and DLI 7 Lead for the project, Prof. Monioluwa Olaniyi, Director, ACETEL, Prof. Grace Jokthan, Deputy Centre Director, Dr. Johnson Opateye, Social Safeguards Officer, Dr. Petu- Ibikunle, M&E Officer, Dr. Adeyinka Abiodun, Project Procurement Officer, Mr. Kazeem Onubaiye, Finance Officer, Mr. Felix Nwagba, University's Technology Transfer Officer, Dr. Musa Runde.
Log in to post comments
171 views