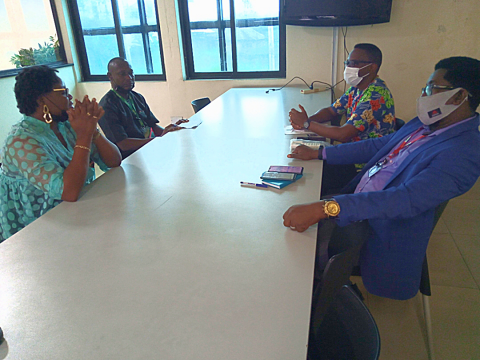 The programme manager of Cool FM, an independent radio station in Port Harcourt, Rivers State, Mr. Carl Orakwue, has said the National Open University of Nigeria (NOUN) needs an intensive media campaign in the state.

Orakwue made the statement when he and his counterpart at Wazobia FM, Mr. China Acheru, received the advocacy team of the Port Harcourt Study Centre of NOUN at the Radio Complex in Port Harcourt on Tuesday, 21 September, 2021.

He observed that although NOUN, as a university, has a lot to offer in terms of programmes and mode of operation, so many people in Rivers State still have yet to know about the existence of the university and what it offers in the state.

Orakwue, therefore, urged the management of the university to take advantage of the various platforms available at Cool FM, Wazobia FM and Nigerian Info FM, to launch a vigorous media campaign both to create awareness and to generate the goodwill of the people of Rivers State, and even the nearby states where the signals of the radio stations are received.

He said the radio stations were willing to support the advocacy campaigns of the university as much as possible, especially as the university and the radio stations share the same neighbourhood.

Earlier on, the centre director of Port Harcourt Study Centre, Dr. Nnenna Nancy Chukwuma, who led the advocacy team to the radio station, had explained to the broadcasters the uniqueness of NOUN as a federal university established by the government of Nigeria to provide access to qualitative, flexible and cost effective university education for Nigerians at their very door steps.

She enumerated the benefits of the mode of instructional delivery offered by NOUN to include studying at learners' own pace, place, and time.
Chukwuma explained the method of operation of NOUN as a loop, which does not allow for closure and opening; but goes round uninterrupted.

The radio station representatives promised to resume discussion with the university when the later has made available a comprehensive programme for its media campaign to enable the radio station know where to come in and the role they should play.
Log in to post comments
32 views