By Inuwa Hamza Yunusa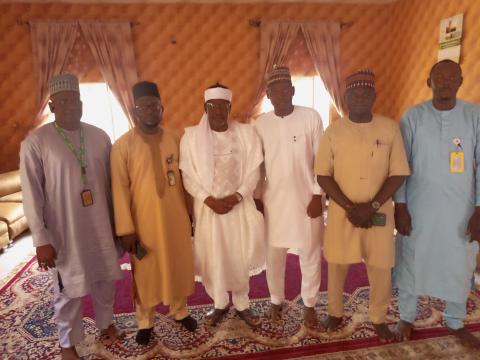 The Mani Community Study Centre, National Open University of Nigeria (NOUN) has visited the Chairman, Mashi Local Government Area, Katsina State and the Iyan Katsina, District Head of Mashi, where the centre explained the advocacy messages at the two places. 
The team, which was led by the Ag. Centre Director, Mr. Shamwil Salisu Bala, was first hosted by the Iyan Katsina, the District Head of Mashi, Alhaji Kabiru Ibrahim Aminu in his Palace. 
Speaking, Bala highlighted the historical trends in the evolution of the university and urged the district head to assist the people in his area of jurisdiction to embrace the university as it is the university of the moment. 
The Ag. director urged the good people of the palace to share the opportunities to others as the university has so many bountiful opportunities to harness.
He emphasised on the need for the district head, as a major community stakeholder, to mobilise philanthropists, politicians and other well-meaning individuals to sponsor intending applicants into the university.
In his remarks, the district head expressed his appreciation over the establishment of the university in the zone and the courtesy visit paid on him as a stakeholder.  
He promised to meet all the relevant stakeholders including the state and the national assembly members as well as other well-to-do individuals within his jurisdiction to ensure that they sponsor interested, qualified and less-privileged ones and support the centre in all its activities.
At  the Mashi Local Government Secretariat, the team was received by the Honourable Chairman, Alhaji Salisu Kalle Mani in his office. 
In his address,  Mr. Salisu thanked the chairman for granting the team audience and assured him of the centre's readiness to key-in to his administration's agenda of making higher education accessible to the indigenes of the Local Government.
Responding , the chairman informed the team that he is adequately aware of the existence of the NOUN, being an MSc Peace Studies and Conflict Resolution student. 
According to him, the nature of the university conforms with his busy schedule and this allows him to further his studies while still leading the council.
He assured the team of his maximum support and promised to encourage LGA staff to enrol as their studies will not temper with their official duties.
The chairman said he is currently in Katsina Study Centre pursuing his masters programme and demonstrated his readiness to support the university.  
Both the cairman and the district head were presented with NOUN souvenirs by the acting centre director.
Log in to post comments
54 views